Rival teams have no issues with the legality of Lotus's new double DRS system
| | |
| --- | --- |
| By Edd Straw | Friday, July 20th 2012, 13:04 GMT |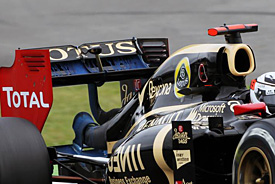 Lotus's new double DRS system, which it trialled today during free practice at Hockenheim, is unlikely to be the subject of any protests from rival teams.
McLaren sporting director Sam Michael indicated that he was confident Lotus had gone through the correct procedures to ensure the system's legality.
"I'm sure that the legality of that is fine", said Michael. "I wouldn't question that. I'm sure that they have done all due process."
According to AUTOSPORT technical correspondent Gary Anderson, the Lotus double DRS system could work through the placement of two intakes at the top of the airbox, flanking the main air intake. This airflow runs into a tube that runs to the back of the engine cover.
When the DRS is not deployed, the air continues through an outlet at the rear of the engine cover. But when the DRS is activated, as with the Mercedes system, a hole is exposed on the inside of the rear wing. This creates a low pressure 'switch' diverting the air into another tube that connects to the underside of the rear wing, through a sealed chamber in the main plane and into the endplate.
This then blows across the rear wing, causing some of the airflow passing over the wing to separate from it, therefore reducing drag when the DRS is open.
While the Mercedes system takes air in from the nose, the Lotus system uses the same basic concept of a hole exposed by the DRS being deploying allowing the air to escape onto the rear wing that has been given the go-ahead by the FIA despite complaints from rival teams earlier this year.