Michael Schumacher and Sebastian Vettel concerned by Nurburgring's financial situation
| | |
| --- | --- |
| By Edd Straw and Matt Beer | Thursday, July 19th 2012, 15:51 GMT |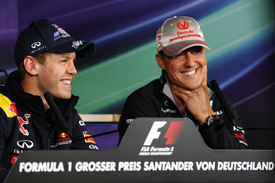 Germany's Formula 1 world champions Michael Schumacher and Sebastian Vettel have expressed their concern at the financial plight of the Nurburgring.
The track, which now hosts the German Grand Prix in odd years as part of a race-share deal with Hockenheim, faces an uncertain future amid mounting political and financial problems.
Current F1 title-holder Vettel said that the Nurburgring was as iconic a venue as the sport's Italian home Monza.
"It would be a real shame to lose Nurburgring as a race," he said. "We hope that Nurburgring will recover quickly.
"It's one of the most traditional races we have on the calendar so it will be a big loss. Similar to if we lose Monza for the Italians, for instance."
Seven-time champion Schumacher agreed, saying that the circuit, which has existed in various forms since 1927, was extremely important to Germany's motorsport heritage.
"There is a lot of history for all of us German drivers that relates to the Nurburgring race," said the Mercedes driver. "We just wish the situation well and hope that we find solutions to be back there as soon as we can."
Vettel has never won his home grand prix either at the Nurburgring or this weekend's venue Hockenheim, and admitted it would be "incredible" if he could achieve the feat this year.
The Red Bull driver scoffed at suggestions that his record of never having won a grand prix in July had any impact at him.
"Obviously it would be very special to win here," he said. "First of all to have the chance to race in your home country is something very special and being able to win would be incredible.
"We try again this year, but I don't believe in a bad month or a bad day in that regard."
Read Dieter Rencken's in-depth analysis of the Nurburgring's financial situation on AUTOSPORT Plus.