Felipe Massa targets fifth place in the F1 standings this season
| | |
| --- | --- |
| By Pablo Elizalde | Wednesday, July 18th 2012, 11:29 GMT |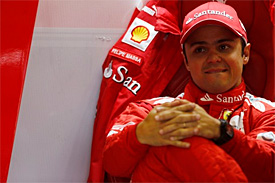 Felipe Massa says he is still aiming to finish in the top five in the drivers' championship this year despite the gap to the top.
The Brazilian Ferrari driver currently sits in 13th position in the standings with just 23 points scored in the first nine races of the season.
Fifth-placed Kimi Raikkonen is on 83 points.
Massa, who endured a very slow start to the season, says the drivers' championship is still important to him, although he concedes reaching the top five may be a difficult task.
"For sure, the drivers' is still important to me," Massa said on Ferrari's website. "Looking at where I was just before Silverstone, I am aware that are a lot of points still available over the coming eleven races. It is very important for me and I want to fight to get back into the top six or top five.
"That might be a difficult target to achieve, but you always need to set yourself a hard challenge. In addition, the Constructors' Championship is very important to us and the better I do in the drivers' the more I help Ferrari."
Massa also insists he has no worries about his future as long as he can continue to perform as he has been doing recently.
The Ferrari driver's position has been in doubt because of his lack of form in the first races, with the team even having talks with Mark Webber.
But following his turnaround in form, Massa thinks he has no reason to fear for his future.
"Of course I keep an eye on what is going on with other drivers, just as anyone likes to know what is going on in whatever work they do," he said. "But the only thing that is important for me is that I keep performing in the same way I did in Silverstone.
"In the two grands prix prior to that, in Montreal and Valencia, I should have been entirely capable of finishing in the top five or on the podium, but for various reasons - a spin in Montreal and a problem with the floor of the car in Valencia - that did not happen.
"Without that, since Monaco, I would have been fighting for the top five at every race. I'm sure that driving the way I am now is the only thing I can do and need to do to ensure my future.
"What happens in the drivers' market does not have a significant effect on my position. If I carry on performing the way I did in Silverstone, then I don't feel too worried about my future."