Heikki Kovalainen wants to see stronger results from Caterham as weighs up 2013 F1 options
| | |
| --- | --- |
| By Michele Lostia and Pablo Elizalde | Wednesday, July 18th 2012, 09:09 GMT |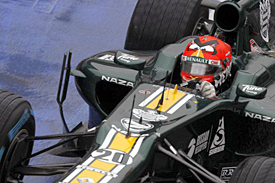 Heikki Kovalainen has suggested Caterham will need to start posting stronger results if he is to stay with the team after his current contract expires.
The Finn is tied to the team until the end of the season, but has previously admitted he is yet to sort out his future.
Caterham has failed to deliver the kind of results it expected ahead of the start of the 2012 season, having targetted a move into the midfield.
And Kovalainen told Autosprint magazine in an interview that he needs to see some progress soon.
"Good question," he said when asked what he wanted to do in the future. "I feel good here but I would like to do more results-wise, and soon. At the moment we aren't there yet.
"I don't know what the future holds for me, perhaps my current team doesn't even want me anymore... I let my results do the talking, and up to now they seem fairly good to me. That's the best way to present myself."
The Finn, who turns 31 in October, is convinced he still has much to offer in terms of performance, and is happy people are seeing him as a strong driver despite the lack of results.
"I still have plenty of racing in my blood. I feel I haven't given everything yet, also because things didn't go well at McLaren and I still need to demonstrate something. I'm not even interested in what position I am, what's important is that there are people realising I can do better than 16th or 17th."
Kovalainen made it clear he is only interested in securing a competitive drive and is relatively unconcerned with financial motivations.
"Money is the thing that interests me the least, really," he said. "The important thing is to find a good team, here or elsewhere. Now I think I'm able to do that."