Caterham aiming to unlock full potential of aero upgrades at German Grand Prix
| | |
| --- | --- |
| By Pablo Elizalde | Monday, July 16th 2012, 09:16 GMT |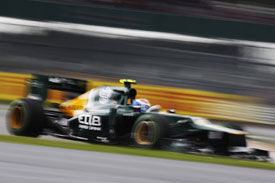 Caterham's technical director Mark Smith is confident his team will be able to extract the maximum from its aero upgrades in this weekend's German Grand Prix.
The team introduced a new aerodynamic package in the previous race at Silverstone, including a new engine cover and new turning vanes on the sidepods and bargeboards.
However, Caterham admitted it failed to deliver the full potential from the updated package, and Smith is hopeful Germany will see to that.
"The back to back weekends in Germany and Hungary mark the last races before the summer break and both should give us a chance to get back to the performance levels we have targeted for this stage of the season," said Smith in a team preview.
"In Silverstone we did not maximise the new aero package we brought but the specific demands of Hockenheim definitely give us a chance to do so. Obviously we will have also had more time to analyse the data we generated over the weekend so I am reasonably confident we will be able to get back to where we want to be."
Heikki Kovalainen agrees with Smith that there is still much more to extract from the updates, but concedes the lack of dry running in Britain was the main cause of that.
"One of the main objectives for us will be to have as much track time as we can to keep working on the upgrades we brought to Silverstone," he said.
"We definitely didn't get as much out of them as we had hoped, mainly due to the lack of dry running we had, so hopefully we'll be able to have a dry Friday so we can work through the set-up options and unlock more of the speed we know is there."