Kasey Kahne beats Denny Hamlin to Loudon NASCAR Sprint Cup win
| | |
| --- | --- |
| By Diego Mejia | Sunday, July 15th 2012, 21:44 GMT |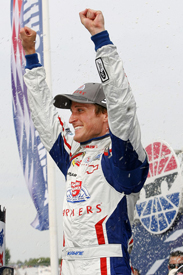 Kasey Kahne took a great step towards securing a place in this year's NASCAR Sprint Cup Chase for the title by beating a dominant Denny Hamlin to victory at Loudon.
Hendrick Motorsports driver Kahne's second win of the year means he leads the 'wildcard' standings, which give drivers with victories and ranked between 10th and 20th in the points a place in the play-off.
Starting from the front row, Kahne was a top-five contender all afternoon and grabbed the lead for good during the final pitstops under the last caution of the day, waved after the engine on David Reutimann's Chevrolet blew up 67 laps from the finish.
That last stop proved to be the pivotal moment of the race, as Kahne was one of several top runners taking on two new tyres while Hamlin (Joe Gibbs Racing Toyota), who was leading when the caution waved, took on a full new set and had to take the green flag down from 13th in the order.
Although Hamlin was able to drive through the field and cut into Kahne's lead in the closing laps, he had to settle for second at the flag, losing three possible bonus points towards his Chase seeding.
"We ran in the top five the whole race, but Denny was obviously the best car," said Kahne. "We had a great [car] and we just had to battle hard throughout the whole race.
"We did it. We had good pit strategy, got the track position, and we were able to lead those final laps there."
Hamlin, who led 151 of the 301 scheduled laps, was gracious in defeat and admitted a miscommunication with his crew chief Darian Grubb led to the wrong strategy decision before the final stop.
"When the caution flies, when pit road opens, that time is so small, your time to communicate, figure out what you're going to do, you really have about 45 seconds to get it," said Hamlin.
"Between all that what happened was Darian asked me how much of the tyres it felt like I used up. I said I felt like I used them up a substantial amount. I'd been on the lefts for quite a few laps.
"So my information to him was, 'yeah, I've used up the tyres'. He said, 'I think two [new tyres] is the call'. I said, 'OK, just give me tyres and no adjustments'. He took that as I meant four tyres. So it's just that small miscommunication just messed us up a little bit."
Michael Waltrip Racing's Clint Bowyer finished third, gaining track position during the final stops and making good use of it to beat the rest of the Hendrick roster as Dale Earnhardt Jr was fourth, followed by Penske's Brad Keselowski, Jeff Gordon and Jimmie Johnson.
The five-time champion lost any chance of victory after short-pitting just before the final caution waved, while Kyle Busch, who had led 72 laps from pole, got caught with the wrong strategy as well. The JGR driver was on a different pit sequence while trying to recover from two slow pitstops and and a speeding penalty.
Richard Childress Racing's Kevin Harvick, Roush Fenway's Greg Biffle and Stewart-Haas' Ryan Newman rounded out the top 10, while Newman's reigning champion team-mate Tony Stewart was 12th after struggling with handling for most of the afternoon, finishing right ahead of points leader Matt Kenseth (Roush).
Results - 301 laps:

Pos  Driver              Team/Car                         Time/Gap
 1.  Kasey Kahne         Hendrick Chevrolet           2h44m24.000s
 2.  Denny Hamlin        Gibbs Toyota                     + 2.738s
 3.  Clint Bowyer        Waltrip Toyota                   + 5.435s
 4.  Dale Earnhardt Jr   Hendrick Chevrolet               + 6.305s
 5.  Brad Keselowski     Penske Dodge                     + 7.003s
 6.  Jeff Gordon         Hendrick Chevrolet               + 8.215s
 7.  Jimmie Johnson      Hendrick Chevrolet               + 9.649s
 8.  Kevin Harvick       Childress Chevrolet             + 13.658s
 9.  Greg Biffle         Roush Fenway Ford               + 15.142s
10.  Ryan Newman         Stewart-Haas Chevrolet          + 17.395s
11.  Martin Truex Jr     Waltrip Toyota                  + 17.917s
12.  Tony Stewart        Stewart-Haas Chevrolet          + 18.093s
13.  Matt Kenseth        Roush Fenway Ford               + 19.200s
14.  Joey Logano         Gibbs Toyota                    + 21.586s
15.  Brian Vickers       Waltrip Toyota                  + 21.676s
16.  Kyle Busch          Gibbs Toyota                    + 22.205s
17.  Paul Menard         Childress Chevrolet             + 26.971s
18.  Carl Edwards        Roush Fenway Ford               + 28.131s
19.  Marcos Ambrose      Petty Ford                      + 30.250s
20.  Jamie McMurray      Earnhardt Ganassi Chevrolet       + 1 lap
21.  Jeff Burton         Childress Chevrolet               + 1 lap
22.  Sam Hornish Jr      Penske Dodge                      + 1 lap
23.  Bobby Labonte       JTG Daugherty Toyota              + 1 lap
24.  Kurt Busch          Phoenix Chevrolet                + 2 laps
25.  Juan Pablo Montoya  Earnhardt Ganassi Chevrolet      + 2 laps
26.  Regan Smith         Furniture Row Chevrolet          + 3 laps
27.  David Gilliland     Front Row Ford                   + 3 laps
28.  Aric Almirola       Petty Ford                       + 3 laps
29.  Landon Cassill      BK Toyota                        + 4 laps
30.  Travis Kvapil       BK Toyota                        + 4 laps
31.  Ken Schrader        FAS Lane Ford                    + 7 laps
32.  Stephen Leicht      Circle Sport Chevrolet           + 8 laps

Retirements:

     David Reutimann     Baldwin Chevrolet                229 laps
     David Ragan         Front Row Ford                   139 laps
     David Stremme       Inception Toyota                 101 laps
     Casey Mears         Germain Ford                      91 laps
     Josh Wise           Front Row Ford                    82 laps
     Joe Nemechek        NEMCO Toyota                      71 laps
     Dave Blaney         Baldwin Chevrolet                 68 laps
     Michael McDowell    Parsons Ford                      63 laps
     Scott Riggs         R3 Chevrolet                      32 laps
     Kelly Bires         Go Green Ford                     19 laps
     JJ Yeley            Robinson-Blakeney Toyota           4 laps