Brad Keselowski: Failed drug test a 'death sentence' for AJ Allmendinger's reputation
| | |
| --- | --- |
| By Diego Mejia | Sunday, July 15th 2012, 06:17 GMT |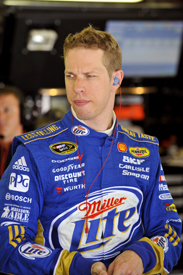 Brad Keselowski believes his Penske team-mate AJ Allmendinger faces a tough road ahead following his positive test for a stimulant, which led to his suspension from NASCAR.
Speaking for the first time about the issue, Keselowski said that regardless of the result of a 'B' sample test, which Allmendinger has already requested, his team-mate's reputation could be damaged beyond repair.
Allmendinger tested positive for a non-specified stimulant during a random drug test performed at Kentucky Speedway. The result of his 'A' urine sample caused him to be suspended immediately, just before last week's Sprint Cup race at Daytona.
"Whether [the 'B' sample test] comes back positive or negative, it doesn't make a difference, it's still a death sentence," said Keselowski.
"Within the sport we rely on sponsors and reputation and it seems like those headlines in the corrections section are always in a much smaller print. I don't know if you've noticed that or not. I don't think that's any different to the rest of the society."
The former Nationwide Series champion said that nothing that enhances an athlete's performance in any way should be allowed in the sport, amid suggestions that some supplements could have caused Allmendinger to test positive - while adding that knowing that this was the case would make a difference to his perception of Allmendinger.
"I think it does matter what it was," Keselowski said. "It does to me. It might not to everybody else, but it matters to me what it was, because there's always going to be that level of uncertainty that I have over any athlete or driver that performs at these levels, and what they're taking or not taking.
"It's so difficult to give a great explanation of how I feel about it, but I think that I want to believe that any performer or athlete out there would not be dumb enough to take a drug that is against the law, illegal.
"It just stands to reason that, if you've made it this far in the sport, you've had the knowledge to not do anything that dumb."
Allmendinger's 'B' sample test has yet to take place as the Penske driver has requested for his own specialists to be present as witnesses when it is performed.