Mercedes will not consider other options until Schumacher decides on F1 future
| | |
| --- | --- |
| By Jonathan Noble | Thursday, July 12th 2012, 09:59 GMT |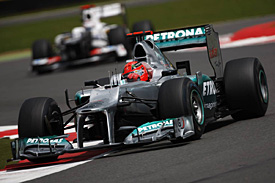 Mercedes insists it will not consider any other options on the grid until it has sorted out whether or not Michael Schumacher is staying with it for next year.
Despite Mark Webber's new Red Bull Racing deal meaning that Mercedes is left in a strong position to lure Lewis Hamilton if the Briton elects to leave McLaren, the Brackley-based team says its priority instead is to work out Schumacher's next step.
Team principal Ross Brawn said ahead of the British Grand Prix that he wanted to make progress on Schumacher's situation by the end of the summer break - and he has now made it clear that he will not think about any other drivers until that matter is finalised.
"We are focused on Michael for as long as it takes - and for whatever it takes," explained Brawn. "Then we will see where we are elsewhere."
Schumacher is driving at his best since he returned to F1 at the start of 2010, and he delivered the first podium finish since his comeback in the European Grand Prix.
Brawn reckons that there was every indication Schumacher was enjoying his time in F1, which would point towards the German electing to sort out a contract extension when his current deal comes to an end this year.
"We haven't discussed it, but he enjoys himself and, if he enjoys himself, why not?" said Brawn about the prospects of Schumacher's continuing.
Although Brawn has said he is happy to wait, he does concede that matters will have to start moving fairly soon – because of the length of time it can take for contracts to be sorted out.
"Inevitably you come to a point where you have to say: let's have the discussions because these things can sometimes take some time, and you have to have the discussion and you have to reach a conclusion in order to plan for the future.
"But there is no deadline or critical point where he or we have said that we must have a decision by then. It must be the right decision: that is the most important thing.
"It will be a mutual decision, I think when the time is appropriate we will sit down and we will go through all the considerations and come to a conclusion," he said. "I think knowing Michael as I do, it will be a logical and sensible conclusion, driven by passion of course because he enjoys what he does."
Should Schumacher elect not to continue, then Mercedes' options appear to be either making a big-money swoop for Lewis Hamilton – whose contract with McLaren runs out later this year – or opting for a promising youngster like Paul di Resta or Nico Hulkenberg.