Danica Patrick adds Kansas to Sprint Cup schedule
| | |
| --- | --- |
| By Diego Mejia | Thursday, July 12th 2012, 08:14 GMT |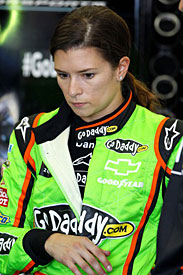 Danica Patrick has added a tenth Cup outing in 2012, including a race in Kansas in October as she prepares for a full assault in 2013.
The Stewart Haas racer will drive the #10 GoDaddy Chevy in the 400-mile event on October 21, taking advantage of a full day of testing which is set for the Thursday ahead of the race, as the Cup field takes on the newly-paved surface of the 1.5-mile oval for the first time.
"With the testing rules the way they are, we can't test with her at tracks where NASCAR's top three series compete," said Greg Zipadelli, competition director at Stewart Haas Racing and race strategist for Patrick.
"That extra day of testing will be huge for her. With the amount of 1.5-mile ovals on the schedule, it made sense to have her compete at Kansas to better prepare her for 2013."
Patrick's Cup schedule this year, which is being run in parallel with her first full Nationwide Series season, includes upcoming races at Bristol, Atlanta Motor Speedway, Chicagoland, Dover, Texas and her home race at Phoenix International Raceway.
She has already completed three Cup outings this year with a best finish of 31st at Darlington last May, while she currently ranks ninth in the Nationwide standing.
"I've always liked racing at Kansas Speedway," Patrick said. "I think the extra day of testing will be very beneficial, not only to prepare for the race weekend, but to learn for the rest of 2012 and looking ahead to 2013 with Stewart-Haas Racing.
"The more track time I can get, the better, so I'm happy to be driving the GoDaddy.com Chevy at Kansas."
Once she completes her partial Cup season, she will no longer be eligible to be a rookie when she embarks in the 36-race Cup schedule next year.