Pickett Racing's Lucas Luhr and Klaus Graf take incredible American Le Mans Series win at Lime Rock
| | |
| --- | --- |
| | Saturday, July 7th 2012, 21:58 GMT |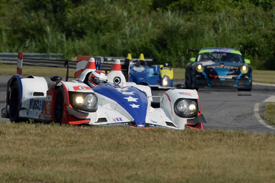 Pickett Racing's Lucas Luhr and Klaus Graf came back from nearly five laps down to take a remarkable American Le Mans Series victory at Lime Rock.
Luhr had initially taken the lead from polesitter Chris Dyson's Dyson Lola-Mazda just six laps into the race, and then edged away only for a gearshift issue to force a long pitstop for their HPD after 45 minutes, dropping them to 21st overall.
Dyson and team-mate Guy Smith were left in a seemingly dominant position, but a blistering charge by Luhr got his car back into contention, while a puncture cost Dyson some of its cushion.
The timing of yellows and pitstops then meant that with half an hour to go, the two LMP1 cars were nose to tail approaching a restart. Graf was soon past Smith and able to clinch Pickett's third win in succession as a late accident led to the race finishing under yellow.
Level 5 claimed another LMP2 victory after a complicated weekend. An issue with the series' driving time regulations led to the team withdrawing its #95 car and saw the #55 put to the back of the grid. Christophe Bouchut surged through the field and led overall for a while, but his team-mate Scott Tucker came under heavy late pressure from the Conquest Morgan-Nissan of Martin Plowman and David Heinemeier Hansson late on. The yellow-flag finish settled it in Level 5's favour.
Patrick Long and Jorg Bergmeister gave Porsche's flagship Flying Lizard team its first GT victory of 2012, just ahead of the Jan Magnussen/Antonio Garcia and Oliver Gavin/Tommy Milner Corvettes. The former survived an early tangle with Dyson, while the latter led initially.
Extreme Speed's Ferraris were also part of the GT lead fight until both cars were involved in clashes with LMPC cars. The second of these was the incident that caused the last-minute yellow, as a big crash for Guy Cosmo ended the #02 Ferrari's day when it was in a tense four-car lead train with the #45 Porsche and the two Corvettes.
The Rahal Letterman Lanigan-run BMW team had a tough afternoon. A pre-race fuel leak meant its polesitting #55 car started from the pits, and an early puncture delayed the #56.
CORE Autosport took an LMPC one-two, Colin Braun and Jonathan Bennett leading home Alex Popow and Tom Kimber-Smith. PR1 Mathiasen was among the CORE cars until Butch Leitzinger tangled with Scott Sharp's Extreme Speed Ferrari, while the polesitting Merchant Services car cut out on track just 15 minutes in.
Alex Job converted its GTC pole into victory for Cooper MacNeil and Leh Keen.
Results - 168 laps:

Pos  Cl   Drivers                     Team/Car                    Time/Gap
 1.  P1   Luhr/Graf                   Pickett HPD             2h45m31.207s
 2.  P1   Dyson/Smith                 Dyson Lola-Mazda           + 12.392s
 3.  P2   Tucker/Bouchut              Level 5 HPD                + 27.024s
 4.  P2   Plowman/Heinemeier Hansson  Conquest Morgan-Nissan     + 27.212s
 5.  PC   Bennett/Braun               CORE FLM                    + 4 laps
 6.  PC   Popow/Kimber-Smith          CORE FLM                    + 4 laps
 7.  P2   Dempsey/Foster              Dempsey Lola-Judd           + 6 laps
 8.  PC   Richard/Ende                Dempsey FLM                 + 6 laps
 9.  GT   Bergmeister/Long            Flying Lizard Porsche       + 8 laps
10.  GT   Magnussen/Garcia            Corvette                    + 8 laps
11.  GT   Gavin/Milner                Corvette                    + 8 laps
12.  GT   Sharp/van Overbeek          Extreme Speed Ferrari       + 8 laps
13.  GT   Hand/Muller                 RLL BMW                     + 9 laps
14.  GT   Muller/Auberlen             RLL BMW                     + 9 laps
15.  GT   Henzler/Sellers             Falken Porsche             + 10 laps
16.  GT   Miller/Maassen              Miller Porsche             + 11 laps
17.  GT   Neiman/Holzer               Flying Lizard Porsche      + 11 laps
18.  GT   Sweedler/Bell               Alex Job Lotus             + 12 laps
19.  PC   Leitzinger/Dobson           PR1 Mathiasen FLM          + 12 laps
20.  GT   Brown/Cosmo                 Extreme Speed Ferrari     + 15 laps*
21.  P1   Marsal/Lux                  Dyson Lola-Mazda           + 15 laps
22.  GTC  MacNeil/Keen                Alex Job Porsche           + 17 laps
23.  GTC  LeSaffre/Faulkner           Green Hornet Porsche       + 17 laps
24.  GTC  Sofronas/Welch              GMG Porsche                + 18 laps
25.  GTC  Cumming/Valiante            JDX Porsche                + 18 laps
26.  GTC  LeSaffre/Lazzaro            Green Hornet Porsche       + 20 laps
27.  PC   Junqueira/Drissi            RSR FLM                    + 22 laps
28.  GTC  Piera/Pumpelly              TRG Porsche                + 23 laps

Retirements:

     PC   Marcelli/Downs              Merchant FLM                 21 laps

* Not running at flag