Vettel insists Valencia safety car was not necessary, but denies saying it was deliberately calculated
| | |
| --- | --- |
| By Charles Bradley and Pablo Elizalde | Thursday, July 5th 2012, 16:24 GMT |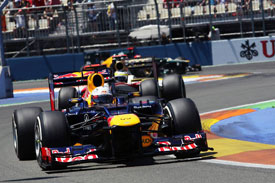 Sebastian Vettel insists he does not think the safety car was necessary in the European Grand Prix, but denied saying it was deliberately deployed to erase his advantage.
The safety car was deployed during the Valencia race after a crash between Heikki Kovalainen and Jean-Eric Verne left debris on track.
At the time, Vettel had opened a big gap over his closest rival.
On Thursday, the Red Bull driver said he still believed the safety car was not necessary, although he accepted the stewards' decision.
"I never said it was deliberate," Vettel told reporters at Silverstone. "I said from my point of view it was not necessary. But I'm not making the decisions. The race direction is making that decision, they decide when it comes out. If they consider it to be necessary, we accept it.
"As usual, whatever [the media] makes out of it, and you leave important bits away, it becomes a different meaning."
He added: "I've had time to look again at the cause for the safety car, and we had pieces of debris on the track before, and nothing happened, then we had a couple more [pieces of debris]...
"But, it's not my decision. So I'm not saying the decision is right or wrong, in my opinion we could have continued racing without [the safety car]. But I had less overview at that moment than the race direction."
The German, who retired from the race soon after the safety car period, had enjoyed a dominant display until that point, having started from pole position.
Although Vettel conceded Red Bull had made a step forward in Valencia, he says he is hoping to confirm that this weekend at Silverstone.
"We have to be patient. We did make a step forward in Valencia, and I had a very straightforward weekend until that point, although Mark had a few reliability issues. I had a smooth weekend and race until the point of the failure.
"Everything seemed to have come together, everything worked. I think what we did to the car made the difference, and we need to confirm that here. It's a different track."