Heikki Kovalainen sure F1 future is bright for him
| | |
| --- | --- |
| By Jonathan Noble and Dieter Rencken | Monday, July 2nd 2012, 14:28 GMT |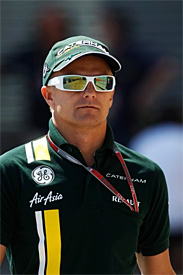 Heikki Kovalainen sees only a bright future for himself in Formula 1, as he waits to see whether the improving Caterham team can deliver him the step forwards he wants to see.
The Finn is out of contract at the end of this season, but is willing to give Caterham a few more races to show that it is on right path to move forwards before he begins considering any other options.
But despite his speed making him an attractive option elsewhere, Kovalainen says he is happy to bide his time before deciding on what he does, because he knows that whichever path he takes will result in him driving competitive machinery.
"The future will be good for me," he explained. "I feel very comfortable here in the paddock. I know that many people know that I'm performing well. I've regained the confidence that I lost a little bit during the McLaren years.
"I have regained all of that back. Physically and mentally I'm in a great place now. Wherever I am next year, the future will be good."
Although there are other attractive options available for Kovalainen next year, he also is aware of how happy he has been at Caterham - and suggests if it keeps improving then there will be no reason to leave.
"We don't have any serious talks with anyone yet. It's a bit too early," he explained. "We need to wait and see first where Caterham is going. I haven't spoken to them yet, they haven't spoken to me, so it's a bit too early. Let's wait and see for the next few updates and try to bring the team forward.
"I've been very happy here and I've been able to perform well here. I've been able to find my swing again, which is good. We wait a few more races and see what happens."
Key to convincing Kovalainen that Caterham is the place to be long-term will be how much a major development upgrade for Silverstone delivers - with the first stage of that update having helped the Finn make it through to Q2 in Valencia.
Speaking about his hopes for the new parts, Kovalainen said: "We know it's going to be significant, probably half a second to one second, but I think before talking about it too much we need to put it to the car and see if it performs.
"In the past we've maybe talked too much and not been able to deliver. It's better to be slightly pessimistic and cautious. At the same time, we are tidying the car everywhere.
"We are making the quality of the car better so I think all of that is helping to get performance in the car. The surfaces and especially the aerodynamic performance is getting better because the car is being manufactured better."