Matt Kenseth confident decision to leave Roush Fenway Racing won't harm his NASCAR Sprint Cup title bid
| | |
| --- | --- |
| By Diego Mejia | Friday, June 29th 2012, 20:37 GMT |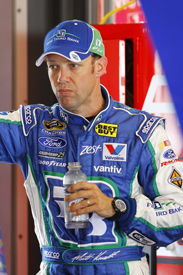 Matt Kenseth remains confident that he and Roush Fenway Racing will be able to stay focused on chasing the NASCAR Sprint Cup title despite knowing they will part ways at the end of the season.
The current Cup points leader is set to depart from the leading Ford organisation after nearly 15 years together at NASCAR's elite level. Speculation has linked the 2003 Cup champion with Toyota's top outfit, Joe Gibbs Racing.
Despite hoping to maintain a championship challenge this year, Kenseth admitted it will not be easy for him and his group to remain isolated from the repercussions of his 2013 decision.
"I think the biggest challenge is all the outside distractions," said Kenseth on Friday at Kentucky Speedway. "My morale and the morale of the team and guys around me and even at the shop to get all this behind us and realise it is up to us. It doesn't matter what is going on around us and what people are saying and all that.
"That is difficult, especially if you haven't been in that spot. I think that is the main thing: getting through this weekend, and hopefully things will die down just a little bit, and just making sure we all keep our eye on the ball."
Clint Bowyer, who faced a similar situation last season in his final year driving for Richard Childress before joining Michael Waltrip Racing, believes Kenseth faces a massive challenge in trying to keep the chemistry inside his team for the remainder of the season.
However, he reckons their status as very likely title contenders will probably help them finish their current relationship on a high note.
"It's really hard and for us it was kind of catastrophic to be honest with you," said Bowyer. "It's hard to keep everybody going. Everybody sees the end of the road and I guess the light at the end of the tunnel is near. For me, it was very hard to keep that momentum going.
"Everybody was kind of wanting to give up on the season and get it over with. But, we weren't in the Chase contention type of thing like Matt is. Matt's a champion and they'll see this thing through the end. They'll be a team that's competing for the championship.
"That would be just pretty ironic to have a guy that's leaving [his team] race for a championship. That would make you guys [the media] work..."