Matt Kenseth says he already has a deal in place for the 2013 NASCAR Sprint Cup season after Roush Fenway split
| | |
| --- | --- |
| By Diego Mejia | Wednesday, June 27th 2012, 20:07 GMT |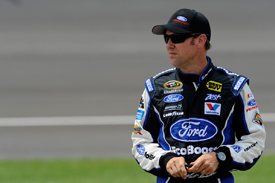 NASCAR Sprint Cup points leader Matt Kenseth has revealed his future is already set for 2013 and beyond after Roush Fenway Racing announced on Tuesday he would be leaving the team at the end of the season.
Speaking on Sirius XM NASCAR Radio on Wednesday, the 2003 Cup champion confirmed he has committed to a new team for the next few years, amid speculation linking him with Joe Gibbs Racing.
"I do have a deal in place for 2013 and beyond," he said. "I, unfortunately, can't talk about that now and don't know when we're going to clear that hurdle and be able to talk about it and make the announcement."
In a separate interview with Wisconsin newspaper the Journal Sentinel, Kenseth said there was no particular 'flashpoint' that had prompted his split with Jack Roush's team - where he has spent his entire Cup career - and that he was excited about the future.
"There's a lot of stuff through the season that's probably led us to this point," Kenseth said. "There isn't really a smoking gun, there really isn't an inside story about a firing or an argument or really any of that.
"At the end of the day, I had an opportunity to go try something else. The timing all worked out. I think everything happens for a reason. Things just kind of lined up to maybe try something else in 2013 and beyond that I'm kind of excited about."
Joe Gibbs Racing president JD Gibbs was asked about the recent speculation regarding Kenseth at a Toyota event on Wednesday, and was complimentary but non-committal - saying he was keen to retain current drivers Kyle Busch, Denny Hamlin and Joey Logano.
"Obviously everyone in the sport likes Matt. On the track. Off the track. A good fit," said Gibbs. "But from our standpoint at JGR, we're kind of focused on this year, here and now, and I think really with Kyle, with Denny and with Joey, we want those guys all with us for a long period of time, too."
Speculation has focused on Logano as the man most likely to make way for Kenseth, but Gibbs intimated that retaining the 22-year-old Pocono winner and adding a fourth car was a possibility in the right circumstances.
"Our goal really is for Joey to be a part of JGR forever," he said. "That's kind of what we're kind of working on, and really until you have stuff laid out - [and can say] 'here's the plan' - it's not really worth talking about. But that's our hope."
Hamlin said he felt Kenseth's talent and experience would be a huge asset to any NASCAR team.
"Someone like that obviously has the potential to bring a whole lot of talent and a whole lot of information to your race team, and you just hope that if the opportunity comes available, then he would be a great guy to fill a seat," said Hamlin.