IndyCar seeks to launch FIA catch fencing study
| | |
| --- | --- |
| By Mark Glendenning | Monday, June 25th 2012, 14:55 GMT |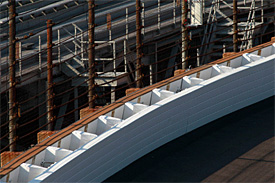 IndyCar will be seeking to launch an FIA study into catch fencing when the FIA Institute for Motorsport Safety meets in Paris this week.
IndyCar orthopedic consultant Dr Terry Trammell told the series' official website that he would be looking for collaboration with his European counterparts as efforts continue to find ways to improve the design of catch fencing to increase safety for drivers and spectators.
"We also have been trying to initiate a study of fencing and come up with some better ideas about how to manage fencing to satisfy the need to keep the car and car parts out of the crowd and have a lesser potential for injuring the driver," he said.
"We're in the information-gathering stage right now to discern whether it's something we can do ourselves or through collaboration with the FIA Institute. The biggest thing is to develop a very logical approach to identifying what the fence has to do.
"We've looked at clear plates, but they can be heavy and don't let air pass through them. We've looked at different ways to hang the fence, like a curtain to act as more of a catch, and also connecting it to the SAFER [barrier]. We'll start the discussion. There's a lot of potential for interaction across the pond."
Trammell said that another item on the agenda would be a discussion over the protocol for extracting an unconscious driver from a car.
"The big focus this round is the technique used to extricate an unconscious driver from a race car and whether you need too at all," Trammell said. "We have a great deal of data to support how IndyCar does it, what needs to be done and why it needs to be done."