Kovalainen says Vergne crash a "rookie error" by the Frenchman
| | |
| --- | --- |
| | Sunday, June 24th 2012, 15:52 GMT |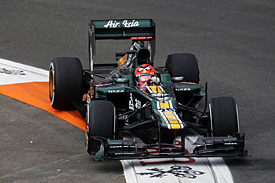 Heikki Kovalainen described his race-spoiling collision with Jean-Eric Vergne in the European Grand Prix as a "rookie mistake" by the Frenchman, after a race in which both Caterhams were involved in contact with Toro Rossos.
Kovalainen and Vergne both sustained punctures when they clashed as Vergne tried to pass the Caterham for 17th on lap 12.
Later on, their respective team-mates Daniel Ricciardo and Vitaly Petrov came together while battling for 12th.
Ricciardo continued intact despite an airborne spin and finished 12th, while Petrov required a new nose but still came home 13th, one place ahead of Kovalainen. Vergne had to retire with damage from his incident.
"My pace was good but then Vergne made what looks like a rookie mistake, hit me and I had to come in for a new nose," said Kovalainen. "From that point I was just trying to get to the end of the race."
Vergne felt the collision was "just a racing incident", but that he had been in front.
"I felt I was ahead and as I started to turn into the corner, we collided and his front wing clipped my rear wheel," said Vergne. "There was too much damage to the floor and it was impossible to change the damaged rear wheel so there was no way for me to continue."
Ricciardo blamed Petrov's 'aggression' for their tangle.
"I had Petrov going quite slowly in front of me, I went to get around him and he defended by going a bit wide," said the Australian. "So I tried to switch back and I feel I gave him some racing room, but we still made contact because perhaps his move was a bit too aggressive."
Shortly before the clash, Petrov had been running 10th and looking like he might manage to give Caterham its first point. But the Russian was then passed by eventual top-four finishers Michael Schumacher and Mark Webber before being caught by Ricciardo, and said he had never felt scoring was realistic anyway.
"Even though we were running 10th at one point I'm not sure a point was quite within reach today, but it's really encouraging to see how we've progressed here," said Petrov.