Webber welcomes 'crazy' outcome after charging to fourth in the European Grand Prix
| | |
| --- | --- |
| | Sunday, June 24th 2012, 14:42 GMT |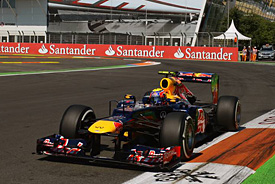 Mark Webber described his progress from 19th on the grid to fourth place in the European Grand Prix as a 'crazy' outcome - but still felt the race would have been even more enjoyable if he had not needed to take care of the Pirelli tyres.
After problems with his Red Bull's hydraulics and DRS saw Webber eliminated in Q1 in Valencia, the Australian made determined progress through the field in the race to finish right on the tail of third-placed Mercedes driver Michael Schumacher.
"Another crazy day. As we're finding out, it's very different to know what's going to happen on Sundays," said Webber.
"Obviously there was a bit of attrition at the front today, with a Lotus, Lewis [Hamilton] and Seb [Vettel] as well. I'll take that.
"It's all part of the championship and yesterday wasn't a great day for me. Maybe if I'd started at the front I wouldn't have had such a good a race as I did from the back."
Webber felt strategy had been the dominant factor in his progress, suggesting that he had still needed to hold back to avoid taking too much out of his tyres.
"Strategy's all about rolling the dice and going on the fly, all the time," said Webber. "Trying to - not guess - but work out what's going on.
"I didn't mind the race, it wasn't too bad - a bit of KERS, a bit of DRS, a bit of fighting here and there.
"But it's still very tricky to race. You can't race that hard because you're looking after the tyres.
"In the end it's a lot of points for me so I'm happy with that from that grid position."