Jenson Button not expecting to make much progress in the European Grand Prix
| | |
| --- | --- |
| | Saturday, June 23rd 2012, 14:31 GMT |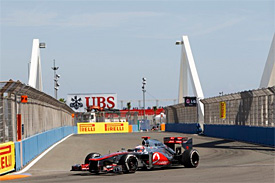 Jenson Button reckons he has very little chance of making progress up the order from ninth on the European Grand Prix grid after his McLaren lost performance at the end of Valencia Q3.
After a run of difficult weekends, Button was optimistic that he would be in better shape in Valencia - and that seemed to be the case as he led the way in final practice.
But on his final run in Q3, the front brake locking issues that had troubled him in Friday practice returned, leaving him only ninth on the grid and pessimistic about his race chances.
"We're in Valencia, not a lot happens here in the race," Button said. "You can't overtake round here. I think if you get it right on the strategy, maybe, but the way the tyres seem to hold on for most people, it's not going to be the most exciting race, I don't think.
"The only people I would say can maybe move up will be the Lotuses."
He added: "It's going to be difficult. It's not a place that's famous for its fantastic overtaking manoeuvres. There's only one DRS zone as well this year. I think we're pretty much stuck with what we've got at the moment."
Button said his McLaren had seemed to be in good shape until its behaviour changed on new tyres in Q3.
"All day it's been good. All weekend the car's felt good in terms of the feeling," he said. "The car was very different at the end of Q3, with massive amounts of front locking.
"It's something I've worked on so much overnight and this morning, and the car's been great. I've had a lot of confidence under braking. I get to Q3 and touch the brakes, and every time I do, I'm locking fronts."