Markus Pommer takes maiden Formula 2 pole at Spa
| | |
| --- | --- |
| By Jack Nicholls | Saturday, June 23rd 2012, 09:30 GMT |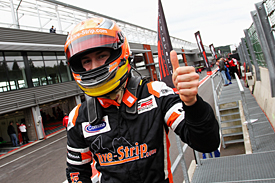 Markus Pommer took his maiden Formula 2 pole position in qualifying for the first race of the weekend at Spa.
After setting a banker lap, Pommer used his fresh tyres to "try a crazy lap, and it was perfect". He outpaced Daniel McKenzie by 0.05 seconds, but the British driver only did one run on fresh tyres, leaving him in an arguably stronger position for the race.
Mihai Marinescu qualified third on the grid alongside Kevin Mirocha, with the top four separated by less than two tenths of a second. Matheo Tuscher also only did one run, setting a time good enough for fifth on the grid ahead of F2 debutant Vittorio Ghirelli.
The tactic of doing only one flying lap did not work out as well for Luciano Bacheta, the championship leader starting in seventh place, with Alex Fontana behind him.
Despite looking quick in testing, Bacheta's closest rival Christopher Zanella could only manage ninth on the grid, whilst Parthiva Sureshwaren's best qualifying effort ensured he completed the top 10.
Pos  Driver                Time       Gap
 1.  Markus Pommer         2m04.623s
 2.  Daniel McKenzie       2m04.673s  + 0.050s
 3.  Mihai Marinescu       2m04.796s  + 0.173s
 4.  Kevin Mirocha         2m04.811s  + 0.188s
 5.  Mathéo Tuscher        2m04.933s  + 0.310s
 6.  Vittorio Ghirelli     2m05.036s  + 0.413s
 7.  Luciano Bacheta       2m05.095s  + 0.472s
 8.  Alex Fontana          2m05.236s  + 0.613s
 9.  Christopher Zanella   2m05.247s  + 0.624s
10.  Parthiva Sureshwaren  2m05.317s  + 0.694s
11.  Dino Zamparelli       2m05.577s  + 0.954s
12.  Plamen Kralev         2m06.086s  + 1.463s
13.  Mauro Calamia         2m06.142s  + 1.519s
14.  Axcil Jefferies       2m06.427s  + 1.804s
15.  Maxim Snegirev        2m06.442s  + 1.819s
16.  Hector Hurst          2m06.473s  + 1.850s
17.  Kourosh Khani         2m07.227s  + 2.604s
18.  David Zhu             2m07.260s  + 2.637s