McLaren seeking to consolidate pitstop advantage in Valencia
| | |
| --- | --- |
| By Jonathan Noble | Saturday, June 23rd 2012, 08:32 GMT |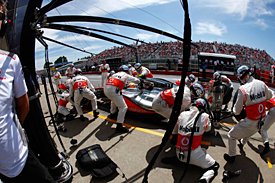 McLaren believes it can confirm its position as Formula 1's fastest pitstop team in this weekend's European Grand Prix, on the back of changes it has made over the course of this season.
After intense analysis of its pitstop procedures following various troubles it has encountered throughout this year's campaign, the team's sporting director Sam Michael reckons the team has the potential to become the benchmark in this area.
"What we have done is work on a lot on equipment and also the people," said Michael, with the outfit having delivered the quickest single stop in the Canadian GP a fortnight ago. "We brought in retained wheel nuts, quick release swivel jacks and traffic light systems, so in terms of equipment we've been on a good upward curve.
"We have changed a lot of the people around as well, and we have been fixed now for the last three races. We are now averaging 2.5 seconds per pit stop in practice, and we think we can average here less than three seconds, which is better than any other team in the pitlane. The pace that we showed in Montreal supports that."
McLaren's pitstop advantage in Montreal was not as obvious because clutch issues meant its drivers were sometimes slow away - but Michael thinks Valencia should deliver a clearer picture.
"We had a few issues with the clutch release getting away but, even with all the issues we had, our fastest [average] pit stop times were only two tenths off the quickest - and we think if everything had gone right in Montreal then we would have averaged seven tenths quicker than everybody.
"So there is no doubt that the guys have improved significantly - and they are just on that corner: their confidence is building and hopefully this is the race where they will get that average."