Dario Franchitti earns Iowa IndyCar Series pole by winning third heat race
| | |
| --- | --- |
| By Mark Glendenning | Saturday, June 23rd 2012, 00:09 GMT |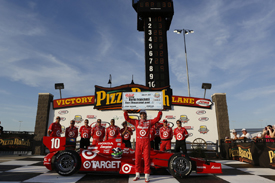 Dario Franchitti will start Saturday night's IndyCar Series race at Iowa Speedway from pole position after winning the final qualifying heat race at the 7/8th mile oval.
Franchitti (Ganassi) started from second on the grid behind Marco Andretti, but passed the Andretti Autosport driver around the outside on lap five to take the lead.
Andretti lost another place to Penske's Helio Castroneves a couple of laps later, but the Brazilian was unable to make any dent in Franchitti's lead and settled for second, which is still enough for a front-row grid spot on Saturday. Franchitti's margin of victory was 1.4 seconds.
James Hinchcliffe passed the Penske Dallara-Chevroletss of Will Power and Ryan Briscoe to move into fourth early on, but found himself under pressure from Briscoe as the race entered its final laps. Briscoe got close enough to have a look down the inside with five laps to go, but could not make the move stick. The Australian will start alongside compatriot Power on the third row, with Andretti's Ryan Hunter-Reay and Ganassi's Scott Dixon occupying row four.
Tony Kanaan was the big mover in the opening heats, going from fourth place to win heat two.
Kanaan (KV Racing Technology) passed Dale Coyne's Justin Wilson for third on the first lap, and then waited for the lead battle between polesitter Rubens Barrichello (KV) and Alex Tagliani (Bryan Herta Autosport) to be decided in the Canadian's favour ahead of him before making his next move.
His chance came when Barrichello lost speed immediately after being passed by Tagliani, but while the Formula 1 veteran was unable to prevent Kanaan from passing him, he was able to hold on to finish third.
Earlier, the first 30-lapper was dominated by Ganassi's Graham Rahal, who finished 6.2s clear of Josef Newgarden (Sarah Fisher Hartman). The cars ran almost the entire race in their starting order before Panther's JR Hildebrand passed EJ Viso (KV) for third with three laps remaining, moving himself one row further up the grid in reward.
The first two heat races determined the grid order from the fifth row back for the main race. But both Kanaan and Rahal are facing 10-place gird penalties for unauthorised engine changes, as are Viso and Schmidt Hamilton's Simon Pagenaud.
Heat one results - 30 laps:

Pos  Driver               Team/Car                  Time/Gap
 1.  Graham Rahal         Ganassi DW12-Honda      9m00.6441s
 2.  Josef Newgarden      Fisher DW12-Honda        + 6.2134s
 3.  JR Hildebrand        Panther DW12-Chevy       + 6.5594s
 4.  EJ Viso              KV DW12-Chevy            + 7.4531s
 5.  Oriol Servia         Panther/DRR DW12-Chevy   + 8.3586s
 6.  Mike Conway          Foyt DW12-Honda         + 10.8144s
 7.  Ed Carpenter         Carpenter DW12-Chevy    + 13.4036s
 8.  Takuma Sato          Rahal DW12-Honda        + 18.5671s

Heat two results - 30 laps:

Pos  Driver               Team/Car                  Time/Gap
 1.  Tony Kanaan          KV DW12-Chevy           8m59.4932s
 2.  Alex Tagliani        Herta DW12-Honda         + 3.1255s
 3.  Rubens Barrichello   KV DW12-Chevy            + 6.0818s
 4.  Justin Wilson        Coyne DW12-Honda         + 7.9310s
 5.  Charlie Kimball      Ganassi DW12-Honda      + 10.0818s
 6.  Katherine Legge      Dragon DW12-Chevy       + 13.7490s
 7.  James Jakes          Coyne DW12-Honda        + 14.0032s
 8.  Simona de Silvestro  HVM DW12-Lotus             + 1 lap
 9.  Simon Pagenaud       Schmidt DW12-Honda         + 1 lap

Heat three results - 30 laps:

Pos  Driver               Team/Car                  Time/Gap
 1.  Dario Franchitti     Ganassi DW12-Honda      9m16.9203s
 2.  Helio Castroneves    Penske DW12-Chevy        + 1.4671s
 3.  Marco Andretti       Andretti DW12-Chevy      + 5.1884s
 4.  James Hinchcliffe    Andretti DW12-Chevy      + 5.9813s
 5.  Ryan Briscoe         Penske DW12-Chevy        + 6.5813s
 6.  Will Power           Penske DW12-Chevy        + 7.3542s
 7.  Ryan Hunter-Reay     Andretti DW12-Chevy      + 7.8433s
 8.  Scott Dixon          Ganassi DW12-Honda       + 9.2963s

Starting order:

 1.  Dario Franchitti     Ganassi DW12-Honda
 2.  Helio Castroneves    Penske DW12-Chevy
 3.  Marco Andretti       Andretti DW12-Chevy
 4.  James Hinchcliffe    Andretti DW12-Chevy
 5.  Ryan Briscoe         Penske DW12-Chevy
 6.  Will Power           Penske DW12-Chevy
 7.  Ryan Hunter-Reay     Andretti DW12-Chevy
 8.  Scott Dixon          Ganassi DW12-Honda
 9.  Tony Kanaan          KV DW12-Chevy*
10.  Graham Rahal         Ganassi DW12-Honda*
11.  Alex Tagliani        Herta DW12-Honda
12.  Josef Newgarden      Fisher DW12-Honda
13.  Rubens Barrichello   KV DW12-Chevy
14.  JR Hildebrand        Panther DW12-Chevy
15.  Justin Wilson        Coyne DW12-Honda
16.  EJ Viso              KV DW12-Chevy*
17.  Charlie Kimball      Ganassi DW12-Honda
18.  Oriol Servia         Panther/DRR DW12-Chevy
19.  Katherine Legge      Dragon DW12-Chevy
20.  Mike Conway          Foyt DW12-Honda
21.  James Jakes          Coyne DW12-Honda
22.  Ed Carpenter         Carpenter DW12-Chevy
23.  Simona de Silvestro  HVM DW12-Lotus
24.  Takuma Sato          Rahal DW12-Honda
25.  Simon Pagenaud       Schmidt DW12-Honda*

* Will take 10-place engine change penalty before start