Marco Andretti tops second IndyCar practice session at Iowa
| | |
| --- | --- |
| By Mark Glendenning | Friday, June 22nd 2012, 20:46 GMT |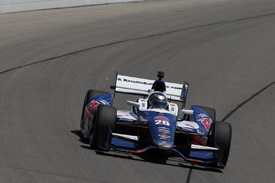 Marco Andretti set the quickest time in a frantic second IndyCar practice session at Iowa.
Times from the session will be used to determine which of Friday night's three qualifying heat races drivers will be placed in, with only the eight fastest earning a spot in the third race, which will determine pole position.
Andretti's best lap of 186.041mph, in his Andretti Autosport entry, came shortly after the green flag, but the rest of the order was set in a manic final few minutes that were more akin to qualifying, with drivers scrambling to get themselves into the top eight.
Chip Ganassi's Dario Franchitti leapt from the middle of the field up to second place in the dying seconds of the session with a 185.715mph lap, bumping KV Racing's Rubens Barrichello out of the top eight in the process.
Joining Andretti and Franchitti in having a shot at pole position are Penske's Helio Castroneves, Will Power and Ryan Briscoe, Andretti Autosport's James Hinchcliffe and Ryan Hunter-Reay, and Ganassi's Scott Dixon.
Barichello's final position of ninth means that he will start from pole in the second heat race, which is for cars in odd-numbered positions from ninth and below, while Ganassi's Graham Rahal, who was 10th-fastest, will start from the front in the first heat.
Pos  Driver               Team/Car                Time      Gap
 1.  Marco Andretti       Andretti DW12-Chevy     17.2994s
 2.  Dario Franchitti     Ganassi DW12-Honda      17.3298s  + 0.0304s
 3.  Helio Castroneves    Penske DW12-Chevy       17.3300s  + 0.0306s
 4.  Will Power           Penske DW12-Chevy       17.3487s  + 0.0493s
 5.  Ryan Briscoe         Penske DW12-Chevy       17.3608s  + 0.0614s
 6.  James Hinchcliffe    Andretti DW12-Chevy     17.4133s  + 0.1139s
 7.  Ryan Hunter-Reay     Andretti DW12-Chevy     17.4225s  + 0.1231s
 8.  Scott Dixon          Ganassi DW12-Honda      17.4312s  + 0.1318s
 9.  Rubens Barrichello   KV DW12-Chevy           17.4353s  + 0.1359s
10.  Graham Rahal         Ganassi DW12-Honda      17.4542s  + 0.1548s
11.  Alex Tagliani        Herta DW12-Honda        17.4614s  + 0.1620s
12.  Josef Newgarden      Fisher DW12-Honda       17.4772s  + 0.1778s
13.  Justin Wilson        Coyne DW12-Honda        17.4845s  + 0.1851s
14.  EJ Viso              KV DW12-Chevy           17.4940s  + 0.1946s
15.  Tony Kanaan          KV DW12-Chevy           17.5121s  + 0.2127s
16.  JR Hildebrand        Panther DW12-Chevy      17.5421s  + 0.2427s
17.  James Jakes          Coyne DW12-Honda        17.5653s  + 0.2659s
18.  Oriol Servia         Panther/DRR DW12-Chevy  17.5772s  + 0.2778s
19.  Charlie Kimball      Ganassi DW12-Honda      17.5953s  + 0.2959s
20.  Mike Conway          Foyt DW12-Honda         17.6269s  + 0.3275s
21.  Simon Pagenaud       Schmidt DW12-Honda      17.6842s  + 0.3848s
22.  Ed Carpenter         Carpenter DW12-Chevy    17.7010s  + 0.4016s
23.  Katherine Legge      Dragon DW12-Chevy       17.7728s  + 0.4734s
24.  Takuma Sato          Rahal DW12-Honda        17.8094s  + 0.5100s
25.  Simona de Silvestro  HVM DW12-Lotus          18.3626s  + 1.0632s

Heat one grid:

 1.  Graham Rahal         Ganassi DW12-Honda
 2.  Josef Newgarden      Fisher DW12-Honda
 3.  EJ Viso              KV DW12-Chevy
 4.  JR Hildebrand        Panther DW12-Chevy
 5.  Oriol Servia         Panther/DRR DW12-Chevy
 6.  Mike Conway          Foyt DW12-Honda
 7.  Ed Carpenter         Carpenter DW12-Chevy
 8.  Takuma Sato          Rahal DW12-Honda

Heat two grid:

 1.  Rubens Barrichello   KV DW12-Chevy
 2.  Alex Tagliani        Herta DW12-Honda
 3.  Justin Wilson        Coyne DW12-Honda
 4.  Tony Kanaan          KV DW12-Chevy
 5.  James Jakes          Coyne DW12-Honda
 6.  Charlie Kimball      Ganassi DW12-Honda
 7.  Simon Pagenaud       Schmidt DW12-Honda
 8.  Katherine Legge      Dragon DW12-Chevy
 9.  Simona de Silvestro  HVM DW12-Lotus

Heat three grid:

 1.  Marco Andretti       Andretti DW12-Chevy
 2.  Dario Franchitti     Ganassi DW12-Honda
 3.  Helio Castroneves    Penske DW12-Chevy
 4.  Will Power           Penske DW12-Chevy
 5.  Ryan Briscoe         Penske DW12-Chevy
 6.  James Hinchcliffe    Andretti DW12-Chevy
 7.  Ryan Hunter-Reay     Andretti DW12-Chevy
 8.  Scott Dixon          Ganassi DW12-Honda