Michael Schumacher talks down victory chances at the European Grand Prix
| | |
| --- | --- |
| By Glenn Freeman | Thursday, June 21st 2012, 15:29 GMT |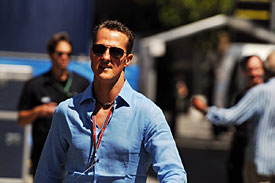 Michael Schumacher believes talk of him being able to win this weekend's European Grand Prix is too optimistic.
The seven-time world champion was installed as one of the pre-race favourites in Valencia, partly due to the pace he showed in Monaco and the suggestion from Pirelli motorsport boss Paul Hembery that he would be the man to beat.
But Schumacher believes that Mercedes' form in Canada, where it was also expected to shine but came up short, suggests that it will not be competing for victory this weekend.
"You have probably seen Montreal," Schumacher told reporters in the Valencia paddock. "We indicated that to be a good circuit for us and it turned out not to be accurate. So it is a question mark what this track [Valencia] will be like.
"This year, I don't think it is a very straightforward to predict and try to understand why things are going well. And therefore I'm a little bit reluctant to say we are in a very strong position here.
"We hope to be in a good position, but to call it a victory here, that would be too optimistic from my point of view of what we have seen in Canada."
Schumacher also believes that the Spanish street circuit can buck its trend of producing dull races.
"The nature of the circuit allows for good racing," he added. "We have long straights, we have DRS and KERS that should allow for overtaking.
"And that, combined with the uncertainty [in 2012] that we may like or not like... who knows what is going to happen?"