Fernando Alonso relaxed about identity of future Ferrari team-mate
| | |
| --- | --- |
| By Jonathan Noble and Pablo Elizalde | Thursday, June 21st 2012, 14:10 GMT |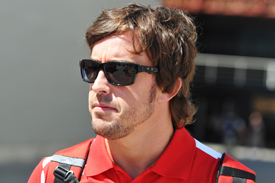 Fernando Alonso says he is not wasting too much time thinking about potential future team-mates, as he downplayed speculation linking Sebastian Vettel with Ferrari.
Team boss Stefano Domenicali fuelled rumours about a possible move for the German when he said Alonso and Vettel would have no problems coexisting at the Italian squad.
Alonso said, however, the speculation was just that at the moment, although he claimed he will welcome anyone if the team decides to replace Felipe Massa.
"Rumours with Ferrari are always the same," Alonso said in Valencia on Thursday. "When I won the 2005 championship with Renault I was linked to Ferrari immediately and I arrived in 2010, so if Seb is linked now maybe he arrives in five years' time!
"Every time is the same with Ferrari: whatever team-mate comes in the future will be welcome, he will be part of the team and part of Ferrari. Whatever team-mate comes in the future it will not be a problem and we will try to work as we are doing now with Felipe."
Alonso, who has a contract with the team until the end of 2016, revealed he has a say over who his future team-mate is.
"In the past, never. Now in Ferrari, yes," he said. "I am in Italy every week when we are there. Sometimes I see the president, I see Stefano and we talk about development of the car.
"We talk about the future en F1, about Corse Clienti, owners who have old F1 cars that want us to be there in some circuits to teach some senior drivers, and also about future and team-mates, etc."
The Spaniard also made it clear he would have no issues with Lewis Hamilton joining Ferrari as his team-mate.
"Not a problem," he said in response to questions about the prospect.