NASCAR makes further aero tweak to try and improve Sprint Cup racing
| | |
| --- | --- |
| By Diego Mejia | Thursday, June 21st 2012, 01:34 GMT |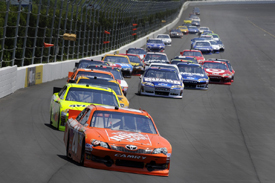 NASCAR has announced further technical changes to Sprint Cup cars in an effort to enhance overtaking and prevent teams from getting unfair advantages with their mechanical set-ups.
On Wednesday officials issued a technical bulletin which increases the ground clearance on both sides of the car by a half inch, up to a minimum of 4.5 and a maximum of 5 inches for the right side and a minimum of 5, maximum of 5.5 inches on the left side.
Last month NASCAR had already increased ground clearance by one inch on the right side and 1.5 inches on the left, but the change had little, if any, effect. This season has seen an unusually low number of cautions and some events have also seen little passing at the front of the field.
Five time Cup champion Jimmie Johnson, who won the All-Star race, the first after NASCAR's initial alteration of the height of the side skirts, doubts the latest rule tweak will have a big impact, despite creating an obvious loss of downforce and side-force.
"They're taking [downforce] away," said Johnson. "I'm not sure it's changed much on track. It's just a tough dynamic to try to make the lead car in clean air to drive as poorly as somebody in dirty air.
"I appreciate the process. I know we're trying to create better racing, side-by-side racing on the mile-and-a-half tracks, but the aero deal is tough to get around. I don't know what the answer is. I don't feel this is it. I appreciate and respect the effort being made.
"Doesn't matter what form of racing. The guy who is leading is in clean air. In our sport, that's a huge advantage."
Additionally NASCAR has mandated that both the right and left side rear sway bar arm-connecting links must be perpendicular to the ground from all viewing angles when car is at ride height.
The rule change is aimed at keeping consistency through the Cup garage, while preventing teams from using the sway bars for different purposes to controlling roll in the corners.