F2 championship leader Luciano Bacheta tops pre-race test at Spa-Francorchamps
| | |
| --- | --- |
| | Tuesday, June 19th 2012, 16:35 GMT |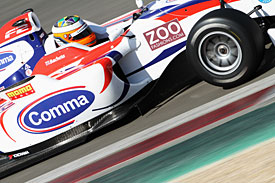 Formula 2 championship leader Luciano Bacheta was the quickest man in the series' pre-race test at Spa-Francorchamps on Tuesday.
Bacheta set a 2m07.463s benchmark in the second of the five sessions held during the day, edging out Alex Fontana by just 0.076 seconds. Matheo Tuscher completed the top three.
Christopher Zanella had led the way in the opening session, which was the only other one to yield fully dry running.
Only four drivers ran in session three, as conditions were neither dry nor fully wet, while Mihai Marinescu set the pace in session four, by which time the track was so wet that times were 23s off Bacheta's morning benchmark.
Conditions improved for session five, when overboost use was permitted, but it was red-flagged due to a crash by Plamen Kralev just as drivers started trying slicks. The other major incident of the day was an accident for Max Snegirev at Fagnes in session four.
Pos  Driver                Time       Gap
 1.  Luciano Bacheta       2m07.463s
 2.  Alex Fontana          2m07.539s  + 0.076s
 3.  Matheo Tuscher        2m07.956s  + 0.493s
 4.  Plamen Kralev         2m08.123s  + 0.750s
 5.  Christopher Zanella   2m08.707s  + 1.244s
 6.  Mihai Marinescu       2m08.765s  + 1.302s
 7.  Daniel McKenzie       2m08.774s  + 1.311s
 8.  Parthiva Sureshwaren  2m08.869s  + 1.406s
 9.  Max Snegirev          2m09.145s  + 1.682s
10.  Markus Pommer         2m09.306s  + 1.843s
11.  Kevin Mirocha         2m09.310s  + 1.847s
12.  Dino Zamparelli       2m09.338s  + 1.885s
13.  Mauro Calamia         2m09.734s  + 2.271s
14.  Kourosh Khani         2m09.863s  + 2.400s
15.  Vittorio Ghirelli     2m09.932s  + 2.469s
16.  David Zhu             2m10.188s  + 2.725s
17.  Hector Hurst          2m10.468s  + 3.005s
18.  Axcil Jefferies       2m10.665s  + 3.202s