Allan McNish says it will be impossible to replace Dindo Capello in the Audi line-up following the Italian's final Le Mans 24 Hours drive
| | |
| --- | --- |
| By Matt Beer | Tuesday, June 19th 2012, 16:21 GMT |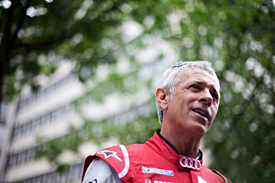 Allan McNish reckons Dindo Capello will prove to be 'irreplaceable' in Audi's #2 driver line-up as the Italian bowed out of his long Le Mans partnership with McNish and Tom Kristensen after last weekend's race.
The trio have driven together since the start of Audi's diesel LMP1 programme in 2006, winning the 2008 Le Mans 24 Hours together plus the '06, '09 and '12 Sebring 12 Hours.
Capello had announced that this year's Le Mans would be his last, leaving Audi to consider whether to slot in a new third driver alongside McNish and Kristensen, or whether to totally reshuffle its driver groupings.
McNish reckons it will be impossible to find someone who fits as well alongside him and Kristensen as Capello has, even though he admitted that he would just have to adapt.
"When it comes, it comes, and that's it," he said of the end of the trio's time together. "It's like when you change engineers after a long relationship, you build up a new formation.
"I think it will be impossible to replace all the qualities of Dindo, especially with Tom and I because it's just such a trusting relationship and such an open one. But that will have to come to pass. It's never been thought about or discussed."
He added: "To be honest, I don't think I've ever had a team-mate that I've had such a close relationship with on and off the circuit. We know each other so well. And his speed - you saw it on Sunday morning [at Le Mans] - is still pretty blinding, without doubt. And he's developed a few Scottish words..."
McNish expects Capello to retain an important role in Audi's programme.
"I don't think there's anyone in the paddock who would anything negative to say about Dindo. Nobody at all. And that's one of the nicest things you can say about a driver who's been in a competitive arena for such a long period of time," he said.
"His talent sometimes still astounds me. For sure, he'll still be around. I don't think he'll be lost and he certainly won't be forgotten."