Ferrari's Nikolas Tombazis says improved form has boosted belief team can win 2012 F1 crown
| | |
| --- | --- |
| | Tuesday, June 19th 2012, 15:37 GMT |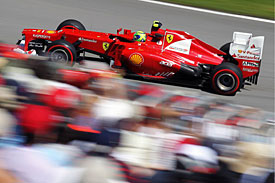 Ferrari's chief designer Nikolas Tombazis says the team's recent improvement has given its crew the self-belief that they can still win the 2012 Formula 1 world championship.
Despite a fraught winter testing period that ended with the Ferrari F2012 a long way off the pace, Fernando Alonso was able to win the Malaysian Grand Prix and since the Spanish GP has been a legitimate victory threat in every race. The Spaniard is currently two points behind championship leader Lewis Hamilton.
"Rightly or wrongly there is an expectation that, as Ferrari, we must be winning every race and always be competitive," said Tombazis. "At the start of the season we were in an uncompetitive situation, which was a big shock for me personally and for my colleagues.
"It has been a hard few months, but we put our heads down and tackled the problem calmly and I think the last few races have been a morale boost for all of us: it has made us believe we can get the job done."
A late decision to change an unsuccessful exhaust layout in winter testing was key to Ferrari's initial struggles, but Tombazis said introducing a revision of the original exhaust design for the Canadian GP was crucial to the team's latest step forward.
"The exhaust layout in Montreal was a cousin of the one we tested in Jerez at the launch," he said. "The former one was more complicated and created various problems for us which meant it did not contribute much in terms of lap time or making the driver feel it was a benefit. We therefore abandoned it, while addressing other weaknesses on the car, until we reached the first major change which came in time for the Spanish Grand Prix.
"That had a different, central exhaust configuration, at a point when we had effectively reviewed the entire car, from its front wing, the diffuser, the rear wing and turning vanes and brake ducts, producing what was in aero terms effectively a new car.
"However, we kept working on the exhausts to develop a more robust and simple system, but it still related to the original one and that is what we introduced in Canada."
Ferrari will bring further exhaust developments plus changes to the front wing and floor for this weekend's Valencia race, as Tombazis said the team would continue pushing for upgrades at the same rate even now it had caught the frontrunners.
"At the moment, we are reasonably satisfied with the point we are at now, given where we started from. However we cannot be totally happy, as we are not in a position to dominate races, or indeed to win all of them, which is always one's objective," he said.