Buemi: Toyota could have fought on with Audi in Le Mans 24 Hours
| | |
| --- | --- |
| By Stuart Codling | Monday, June 18th 2012, 09:04 GMT |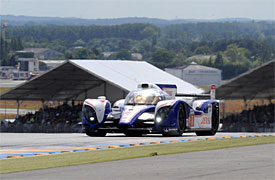 Toyota's Sebastien Buemi believes that the TS030 Hybrids were in a position to continue their intense assault on Audi for the lead of Le Mans, even though one of the cars had only turned a wheel for the first time the day before the pre-race test.
The #7 and #8 cars ran in formation behind the Audis in the opening stints of the 24 hours, initially held back by imperfect handling balance before the track conditions came to them.
Buemi took over the #8 Toyota from Stephane Sarrazin at the end of the second hour, and in the course of a quadruple stint closed right up to leader Benoit Treluyer.
"For me it would have been no problem to continue like this," Buemi told AUTOSPORT.
"We were catching the Audi by quite a bit. When I came in to the pit to let Anthony [Davidson] drive I was just two seconds behind the Audi, and if it had been possible for me to do another two laps I could have passed him for sure. Without the accident Anthony would have kept going in that direction."
Although there are doubts that both cars would have lasted to the finish - the #7 TS030 Hybrid spent a long time in the garage and succumbed to engine failure shortly after rejoining the race – Buemi is confident that any issues can be resolved.
"We are sure we are going in the right direction because the car is quick. Obviously we need to work on reliability and to continue improving the car because for sure Audi will do that too, but we were really sure that we were able to fight Audi. If we keep pushing we will be very strong next year."