McNish admits he could rue late mistake in 2012 Le Mans 24 Hours for many years
| | |
| --- | --- |
| By Matt Beer | Sunday, June 17th 2012, 15:05 GMT |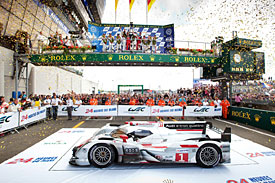 Allan McNish admitted he could rue his late mistake in the 2012 Le Mans 24 Hours for many years to come, after a spin in traffic ended his and team-mates Tom Kristensen and Dindo Capello's shot at victory.
The #2 Audi trio were embroiled in a close battle for the win with fellow e-tron drivers Andre Lotterer, Benoit Treluyer and Marcel Fassler when McNish spun into the barriers at the Porsche Curves while trying to get around the #59 Luxury Ferrari with just over two hours to go.
Although McNish still took the repaired car to second, he said the result was hard to come to terms with.
"You can never be totally disappointed with being on the podium at Le Mans, but when you're fighting for the victory and that's what you come here for and that's what you're fighting all night for, for it to slip away like that is pretty disappointing for me and everybody, all the mechanics and engineers as well," said McNish.
"We've put in a lot of hours to get us to the point where we had a car that I would say was significantly better than we had at Spa.
"When I hit the barrier, I thought that was it. Then I realised we still had half a chance. When I came through, I could feel the suspension wasn't that badly damaged, so from that point of view, the strength of the car showed through.
"The most horrible time for a driver is when you're sitting in the car and you see time disappearing.
"It's one of those ones that you'll look back at when you're an old fart sitting at home looking at the trophies.
"I come here to win. I don't like these second-place trophies. You always come here to win."
McNish said the battle with the #1 car had been utterly flat-out all race.
"We were pushing hard. When I came out for the beginning of that stint, I knew it was going to have to be a fast one because Ben was pushing," he said.
"The first lap was a 3m25.3s, which was our car's fastest lap of the race to date. It just had to be that way.
"I lost eight seconds with two backmarkers who were fighting among themselves and that could've been Le Mans gone. The race was being run to the end flat-out. It was great fun."
The Scot reckoned his car would ultimately have had the edge over the #1 as it could make a fuel load last longer and would not have needed to make a last-gasp pitstop.
"They were doing 11 laps and we were doing 12 [between pitstops]," said McNish.
"Getting rid of the splash at the end was our target. We had to keep in contact to be able to achieve that."