Le Mans 24 Hours 14th hour: #1 Audi e-tron escapes incident
| | |
| --- | --- |
| By Tom Mallett | Sunday, June 17th 2012, 03:21 GMT |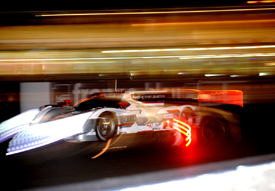 The battle for the overall lead of the 2012 Le Mans 24 Hours continues with Andre Lotterer maintaining a narrow margin over Allan McNish in the other Audi e-tron as the 14th hour came to a close under yellow, despite a spin for the #1.
The #75 Prospeed Porsche hit the wall at the Porsche Curves and repair work is taking place leading to the second safety car period of the race.
McNish had briefly taken the lead when Marcel Fassler spun at the Porsche Curves, catching the wall with the rear of his car and sustaining slight damage but after the pitstops the #1 Audi retook the lead under the stewardship of current fastest lap man Lotterer.
Oliver Jarvis is the lead Audi ultra driver in the #4 car, as he continues to build his lead over the first of the non-Audi contenders, the #12 Lola driven by Nicolas Prost.
In LMP2 the battle for class honours continues between #44 Starworks HPD and #49 ORECA-Nissan, with both cars now solidly in the top 10 overall, lying seventh and eighth.
Brendon Hartley in the #48 Murphy ORECA-Nissan had an incident at the final chicane, sustaining rear suspension damage and failing to restart. The car is yet to return to the pits and has now slipped from fifth position in class to 12th and 19th overall.
At the hour mark it is Toni Vilander in the #51 AF Corse Ferrari who leads the battle for GTE Pro honours by a small margin from Jaime Melo in the #59 Luxury Racing Ferrari with Darren Turner trailing by a lap in his #97 Aston Martin.
Despite the problems for its Pro drivers, Chevrolet is currently leading GTE Am with #50 Larbre Chevrolet entry by Patrick Bornhauser, although the #67 Porsche driven by Nicolas Armindo is close behind.
NOTES
- Faisal spins the #75 Porsche at Porsche Curves, hitting the wall to bring the safety car out
- Marcel Fassler spins the #1 Audi e-tron at the Porsche curves, handing the lead to McNish
- Dumas tipped into a spin while passing traffic at Ford chicane
- Davidson confirms he sustained a broken back as a result of huge earlier crash
- Westbrook loses a wheel, and with it the lead of the GTE Pro class
- Peter Dumbreck suffers blow-out in the #22 JRM HPD
- Spin at Ford chicane for #21 Strakka HPD
- Problems for the #7 Toyota following collision with DeltaWing at the restart
- #29 Gulf Racing Lola B12 the first official retirement
- #40 hit with a two-minute stop and go penalty for second pitlane speeding offence
- 30s pit stop penalties for #40 and #49 LMP2s for speeding in pitlane
- Audi hits early niggles, with Tom Kristensen the third unexpected delay for the marque across its four cars
- Early GTE Pro scrap between Corvette, Aston Martin and Ferrari
- #99 Aston Martin Vantage suffers early misfire and then retires with damage
POSITIONS AFTER 14 HOURS

Pos Car            Drivers                      Class  Laps  Gap
 1. #1  Audi       Lotterer/Fassler/Treluyer    LMP1   219   
 2. #2  Audi       McNish/Capello/Kristensen    LMP1   219   + 2m13.585s
 3. #4  Audi       Jarvis/Bonanomi/Rockenfeller LMP1   217   +    2 Laps
 4. #12 Lola       Prost/Heidfeld/Jani          LMP1   212   +    7 Laps
 5. #3  Audi       Gene/Dumas/Duval             LMP1   210   +    9 Laps
 6. #13 Lola       Belicchi/Bleekemolen/Primat  LMP1   209   +   10 Laps
 7. #44 HPD        Potolicchio/Dalziel/K-Smith  LMP2   205   +   14 Laps
 8. #49 Oreca      Perez Companc/Kaffer/Ayari   LMP2   204   +   15 Laps
 9. #21 HPD        Leventis/Kane/Watts          LMP1   204   +   12.701s
10. #22 HPD        Brabham/Dumbreck/Chandhok    LMP1   204   + 2m19.709s
11. #26 Oreca      Ragues/Panciatici/Rusinov    LMP2   204   + 4m43.643s
12. #46 Oreca      Thiriet/Beche/Tinseau        LMP2   204   + 7m20.984s
13. #41 Zytek      Zugel/Julian/Gonzalez        LMP2   202   +   17 Laps
14. #33 HPD        Tucker/Bouchut/Diaz          LMP2   202   +    1.110s
15. #25 Oreca      Martin/Charouz/Graves        LMP2   201   +   18 Laps
16. #42 Zytek      Brundle/Brundle/Ordonez      LMP2   199   +   20 Laps
17. #45 Oreca      Briere/Nakano/Petersen       LMP2   197   +   22 Laps
18. #48 Oreca      Firth/Hartley/Hughes         LMP2   196   +   23 Laps
19. #35 Morgan     H Hansson/Leinders/Martin    LMP2   196   +27m53.189s
20. #51 Ferrari    Fisichella/Bruni/Vilander    GTEP   195   +   24 Laps
21. #59 Ferrari    Makowiecki/Melo/Farnbacher   GTEP   194   +   25 Laps
22. #15 OAK        Montagny/Kraihamer/Baguette  LMP1   194   + 5m24.932s
23. #23 Oreca      Tresson/Mailleux/Lombard     LMP2   193   +   26 Laps
24. #97 Aston      Mucke/Fernandez/Turner       GTEP   193   +31m34.938s
25. #38 Zytek      Hancock/Dolan/Kurosawa       LMP2   193   +34m58.544s
26. #71 Ferrari    Bertolini/Beretta/Cioci      GTEP   191   +   28 Laps
27. #30 Lola       Sims/Buurman/Iannetta        LMP2   190   +   29 Laps
28. #50 Corvette   Bornhauser/Canal/Lamy        GTEA   190   + 2m59.648s
29. #67 Porsche    Pons/Armindo/Narac           GTEA   190   + 3m04.641s
30. #66 Ferrari    Walker/Cocker/Wills          GTEP   189   +   30 Laps
31. #73 Corvette   Garcia/Magnussen/Taylor      GTEP   187   +   32 Laps
32. #57 Ferrari    Krohn/Jonsson/Rugolo         GTEA   187   + 2m22.085s
33. #88 Porsche    Ried/Roda/Ruberti            GTEA   185   +   34 Laps
34. #77 Porsche    Lietz/Lieb/Henzler           GTEP   184   +   35 Laps
35. #75 Porsche    al Faisal/Curtis/Edwards     GTEA   180   +   39 Laps
36. #70 Corvette   Bourret/Gibon/Belloc         GTEA   180   + 6m16.987s
37. #40 Oreca      Frey/Hirschi/Meichtry        LMP2   178   +   41 Laps
38. #43 Norma      Rosier/Haezebrouck/Thirion   LMP2   176   +   43 Laps
39. #55 Porsche    Daniels/Palttala/Camathias   GTEA   176   + 5m28.373s
40. #79 Porsche    Neiman/Pumpelly/Pilet        GTEA   175   +   44 Laps
41. #61 Ferrari    Kauffman/Aguas/Vickers       GTEA   174   +   45 Laps
42. #17 Dome       Minassian/Bourdais/Ara       LMP1   173   +   46 Laps
43. #83 Ferrari    Rodrigues/Illiano/Ferte      GTEA   163   +   56 Laps
44. #74 Corvette   Gavin/Westbrook/Milner       GTEP   159   +   60 Laps
45. #31 Lola       Holzer/Schultis/Moro         LMP2   155   +   64 Laps
46. #58 Ferrari    Ehret/Jeannette/Montecalvo   GTEA   146   +   73 Laps
47. #24 Morgan     Nicolet/Lahaye/Pla           LMP2   139   +   80 Laps
48. #7  Toyota     Wurz/Lapierre/Nakajima       LMP1   134   +   85 Laps
49. #80 Porsche    Bergmeister/Long/Holzer      GTEP   114   +  105 Laps
50. #28 Lola       Giroix/Badey/Johansson       LMP2   92    +  127 Laps
51. #8  Toyota     Davidson/Buemi/Sarrazin      LMP1   82    +  137 Laps
52. #0  DeltaWing  Franchitti/Krumm/Motoyama    CDNT   75    +  144 Laps
53. #81 Ferrari    Perazzini/Cadei/Griffin      GTEA   70    +  149 Laps
54. #99 Aston      Nygaard/Poulsen/Simonsen     GTEA   31    +  188 Laps
55. #16 Pescarolo  Collard/Bouillon/Hall        LMP1   20    +  199 Laps
56. #29 Lola       Ihara/Deletraz/Rostan        LMP2   17    +  202 Laps