Marcos Ambrose takes first NASCAR Sprint Cup pole with record Michigan pace
| | |
| --- | --- |
| By Diego Mejia | Saturday, June 16th 2012, 19:32 GMT |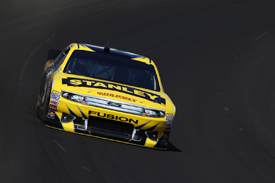 Australian Marcos Ambrose claimed his maiden NASCAR Sprint Cup Series pole position with a new track record at Michigan International Speedway.
The Richard Petty Motorsports driver set a lap at a 203.241 mph average, the quickest in the 43-year history of the newly repaved track, as he became only the fourth driver ever to claim a NASCAR pole with an average above 200 mph.
The former V8 Supercars champion was one of a few who were able to back up their speeds from practice, having run a similar lap during the afternoon session on Friday where he had been second fastest.
"I left a little bit out there," said Ambrose. "I got greedy into Turn 3. The team at Richard Petty Motorsports did an outstanding job for us. This is a really great hot rod and I am proud to represent them.
"We get to start in the front and that is all you can ask for. We are going to try the tyre change tonight and see how our car adapts to that."
Richard Childress Racing's Kevin Harvick ended up second fastest after aborting his initial warm-up lap, stopping on the track and going backwards before getting on a second one, which apparently seemed to do the trick, as he then set the benchmark before Ambrose's filer.
Roush Fenway's Greg Biffle, fastest in practice with a lap at well over 204 mph, was unable to mirror than in qualifying - going just over 201 mph to finish third fastest ahead of Hendrick Motorsports' Kasey Kahne and Stewart-Haas' Ryan Newman.
"I got out of the car and feel this strong wind and that could have had a little to do with the lap time," said Biffle. "I got about all I could get I think out of the car. I thought there would be more grip in [Turns] 1 and 2 so I backed it down a little bit in 3 and 4 and it might have cost me."
Points leader Matt Kenseth was sixth quickest ahead of Wood Brothers' Trevor Bayne, the fastest of the non-guaranteed drivers, making it four Ford Fusions among the top seven in qualifying.
Carl Edwards seemed to be attempting the same as Harvick after stopping on the track before getting the green flag, but he eventually aborted his run and returned to the pits without setting a time after struggling to get up to speed.
David Stremme ran under the previous track record but still failed to make the field while Stacy Compton was also left out of Sunday's race.
Teams will get a further practice session on Saturday evening to try out the new left-side tyre specification that will be used during the race, following blistering issues with the original selection during testing and practice.
Pos  Driver              Team/Car                     Time     Gap
 1.  Marcos Ambrose      Petty Ford                   35.426s
 2.  Kevin Harvick       Childress Chevrolet          35.637s  + 0.211s
 3.  Greg Biffle         Roush Fenway Ford            35.676s  + 0.250s
 4.  Kasey Kahne         Hendrick Chevrolet           35.693s  + 0.267s
 5.  Ryan Newman         Stewart-Haas Chevrolet       35.737s  + 0.311s
 6.  Matt Kenseth        Roush Fenway Ford            35.739s  + 0.313s
 7.  Trevor Bayne        Wood Brothers Ford           35.742s  + 0.316s
 8.  Tony Stewart        Stewart-Haas Chevrolet       35.755s  + 0.329s
 9.  Joey Logano         Gibbs Toyota                 35.777s  + 0.351s
10.  Jimmie Johnson      Hendrick Chevrolet           35.789s  + 0.363s
11.  Denny Hamlin        Gibbs Toyota                 35.842s  + 0.416s
12.  Regan Smith         Furniture Row Chevrolet      35.870s  + 0.444s
13.  Clint Bowyer        Waltrip Toyota               35.877s  + 0.451s
14.  Mark Martin         Waltrip Toyota               35.894s  + 0.468s
15.  Aric Almirola       Petty Ford                   35.93 s  + 0.504s
16.  Martin Truex Jr     Waltrip Toyota               35.931s  + 0.505s
17.  Dale Earnhardt Jr   Hendrick Chevrolet           35.943s  + 0.517s
18.  Paul Menard         Childress Chevrolet          35.976s  + 0.550s
19.  Jamie McMurray      Earnhardt Ganassi Chevrolet  35.980s  + 0.554s
20.  AJ Allmendinger     Penske Dodge                 36.010s  + 0.584s
21.  Juan Pablo Montoya  Earnhardt Ganassi Chevrolet  36.070s  + 0.644s
22.  Austin Dillon       Circle Sport Chevrolet       36.083s  + 0.657s
23.  Scott Riggs         R3 Chevrolet                 36.095s  + 0.669s
24.  Casey Mears         Germain Ford                 36.262s  + 0.836s
25.  Brad Keselowski     Penske Dodge                 36.277s  + 0.851s
26.  Kurt Busch          Phoenix Chevrolet            36.320s  + 0.894s
27.  Michael McDowell    Parsons Ford                 36.342s  + 0.916s
28.  Jeff Gordon         Hendrick Chevrolet           36.378s  + 0.952s
29.  Mike Bliss          Humphrey Smith Toyota        36.404s  + 0.978s
30.  Josh Wise           Front Row Ford               36.419s  + 0.993s
31.  Bobby Labonte       JTG Daugherty Toyota         36.475s  + 1.049s
32.  Landon Cassill      BK Toyota                    36.532s  + 1.106s
33.  Jeff Burton         Childress Chevrolet          36.538s  + 1.112s
34.  Kyle Busch          Gibbs Toyota                 36.543s  + 1.117s
35.  David Gilliland     Front Row Ford               36.580s  + 1.154s
36.  Dave Blaney         Baldwin Chevrolet            36.582s  + 1.156s
37.  Joe Nemechek        NEMCO Toyota                 36.591s  + 1.165s
38.  David Ragan         Front Row Ford               36.609s  + 1.183s
39.  JJ Yeley            Robinson-Blakeney Toyota     36.901s  + 1.475s
40.  David Stremme       Inception Toyota             37.057s  + 1.631s
41.  Stacy Compton       Turn One Chevrolet           37.189s  + 1.763s
42.  Travis Kvapil       BK Toyota                    37.285s  + 1.859s
43.  Ken Schrader        FAS Lane Ford                37.768s  + 2.342s
44.  Tony Raines         Baldwin Chevrolet            38.254s  + 2.828s
45.  Carl Edwards        Roush Fenway Ford