H5: Davidson suffers huge crash at le Mans, shortly after Dumas hits barriers
| | |
| --- | --- |
| By Simon Strang | Saturday, June 16th 2012, 18:16 GMT |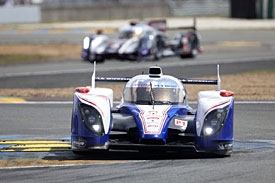 A dramatic fifth hour of the Le Mans 24 Hours ended under yellow cars following a terrifying accident involving Anthony Davidson's #8 Toyota and Piergiuseppe Perazzini's #81 AF Corse Ferrari.

Davidson's car got airborne on the entry to Mulsanne after making contact with the Ferrari he was trying to lap. Both cars careered into the barriers; Davidson's car the right way up, with the Ferrari on its roof.

Davidson initially climbed from his car gesticulating, before lying back down on the sidepod, where medics began to work with the Englishman. Perazzini appeared to be unharmed.

The hour had already created huge drama as it ended with Toyota in the lead after a side-by-side dice between Nicolas Lapierre and Benoit Treluyer. The lead changed several times, with Lapierre passing his compatriot on the grass out of Mulsanne, before they switched positions twice more.
The clash was the climax of increasing pressure from Toyota, with Treluyer's lead - held for much of the hour - coming under more and more threat.

Sebastien Buemi had closed to within two seconds of the leading Audi halfway through the hour before pitting the #8 TS030 for the seventh time and handing over to Davidson. Lapierre did a similar thing before he too pitted to take on more fuel.

Romain Dumas, 2010 winner, meanwhile found himself charging up to the rear of the now fuel-heavy Toyota when disaster struck the #3 ultra.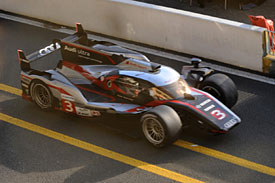 Following the then class-leading #79 Flying Lizard Porsche into the first chicane on the Mulsanne, Dumas appeared to go straight on - almost as if he slid on fluid - from the apex and clouted the tyres hard with the right front of the Audi.

There then ensued some slightly comical tearing away of the crumpled bodywork by Dumas, so that he could slowly retrieve the car to the pits. By the end of the hour, it had already lost five laps.

Shortly after Seth Niemen suffered his own crash in this #79 Porsche, shunting on the exit of Indianapolis - this in spite of the fact the car had not made contact with the Audi.

Behind the leading trio, Dindo Capello was a minute back in the previously delayed #2 Audi - and was the last car now on the lead lap. Marco Bonanomi was fifth in the other ultra.

Nicolas Prost continued Rebellion's impressive progress with the Toyota-powered black Lola ahead of Harold Primat in the sister car. Karun Chandhok was eighth for JRM.

The two Morgans were in control of LMP2 with David Heinemeier-Hansson ahead of Jacques Nicolet, although they swapped position before lining up behind the safety car.

Richard Westbrook led the GTE-Pro category ahead of Adrian Fernandez's Aston Martin, with Toni Vilander's previous advantage lost when he pitted as the safety car emerged.

Julien Canal now leads GTE-Am for Larbre following the problems for Niemen.
POSITIONS AFTER 5 HOURS

Pos Car            Drivers                      Class  Laps  Gap
 1. #7  Toyota     Wurz/Lapierre/Nakajima       LMP1   83    
 2. #1  Audi       Lotterer/Fassler/Treluyer    LMP1   83    +    0.737s
 3. #8  Toyota     Davidson/Buemi/Sarrazin      LMP1   82    +     1 Lap
 4. #2  Audi       McNish/Capello/Kristensen    LMP1   82    + 2m25.842s
 5. #4  Audi       Jarvis/Bonanomi/Rockenfeller LMP1   81    +    2 Laps
 6. #12 Lola       Prost/Heidfeld/Jani          LMP1   81    + 3m48.374s
 7. #13 Lola       Belicchi/Bleekemolen/Primat  LMP1   80    +    3 Laps
 8. #22 HPD        Brabham/Dumbreck/Chandhok    LMP1   80    + 1m12.424s
 9. #15 OAK        Montagny/Kraihamer/Baguette  LMP1   79    +    4 Laps
10. #24 Morgan     Nicolet/Lahaye/Pla           LMP2   78    +    5 Laps
11. #35 Morgan     H Hansson/Leinders/Martin    LMP2   78    + 1m02.342s
12. #3  Audi       Gene/Dumas/Duval             LMP1   77    +    6 Laps
13. #44 HPD        Potolicchio/Dalziel/K-Smith  LMP2   77    + 11m39.507s
14. #48 Oreca      Firth/Hartley/Hughes         LMP2   77    + 11m41.009s
15. #49 Oreca      Perez Companc/Kaffer/Ayari   LMP2   77    + 12m13.938s
16. #26 Oreca      Ragues/Panciatici/Rusinov    LMP2   77    + 12m38.551s
17. #25 Oreca      Martin/Charouz/Graves        LMP2   77    + 12m46.191s
18. #23 Oreca      Tresson/Mailleux/Lombard     LMP2   76    +    7 Laps
19. #30 Lola       Sims/Buurman/Iannetta        LMP2   76    +   28.048s
20. #38 Zytek      Hancock/Dolan/Kurosawa       LMP2   76    + 1m00.691s
21. #45 Oreca      Briere/Nakano/Petersen       LMP2   76    + 1m41.928s
22. #33 HPD        Tucker/Bouchut/Diaz          LMP2   76    + 3m03.502s
23. #46 Oreca      Thiriet/Beche/Tinseau        LMP2   75    +    8 Laps
24. #21 HPD        Leventis/Kane/Watts          LMP1   75    +   47.149s
25. #41 Zytek      Zugel/Julian/Gonzalez        LMP2   75    + 2m20.791s
26. #31 Lola       Holzer/Schultis/Moro         LMP2   74    +    9 Laps
27. #40 Oreca      Frey/Hirschi/Meichtry        LMP2   74    +   53.784s
28. #42 Zytek      Brundle/Brundle/Ordonez      LMP2   74    + 2m43.040s
29. #51 Ferrari    Fisichella/Bruni/Vilander    GTEP   73    +   10 Laps
30. #74 Corvette   Gavin/Westbrook/Milner       GTEP   73    +   56.316s
31. #97 Aston      Mucke/Fernandez/Turner       GTEP   73    + 1m42.557s
32. #59 Ferrari    Makowiecki/Melo/Farnbacher   GTEP   73    + 3m22.315s
33. #77 Porsche    Lietz/Lieb/Henzler           GTEP   72    +   11 Laps
34. #73 Corvette   Garcia/Magnussen/Taylor      GTEP   72    +   25.927s
35. #66 Ferrari    Walker/Cocker/Wills          GTEP   71    +   12 Laps
36. #50 Corvette   Bornhauser/Canal/Lamy        GTEA   71    +    2.724s
37. #88 Porsche    Ried/Roda/Ruberti            GTEA   71    +   19.883s
38. #58 Ferrari    Ehret/Jeannette/Montecalvo   GTEA   71    +   33.102s
39. #67 Porsche    Pons/Armindo/Narac           GTEA   71    + 1m16.273s
40. #61 Ferrari    Kauffman/Aguas/Vickers       GTEA   71    + 3m02.641s
41. #81 Ferrari    Perazzini/Cadei/Griffin      GTEA   70    +   13 Laps
42. #43 Norma      Rosier/Haezebrouck/Thirion   LMP2   70    + 1m28.238s
43. #57 Ferrari    Krohn/Jonsson/Rugolo         GTEA   70    + 1m29.403s
44. #83 Ferrari    Rodrigues/Illiano/Ferte      GTEA   70    + 3m39.908s
45. #71 Ferrari    Bertolini/Beretta/Cioci      GTEP   69    +   14 Laps
46. #70 Corvette   Bourret/Gibon/Belloc         GTEA   69    + 3m21.114s
47. #55 Porsche    Daniels/Palttala/Camathias   GTEA   68    +   15 Laps
48. #79 Porsche    Neiman/Pumpelly/Pilet        GTEA   67    +   16 Laps
49. #80 Porsche    Bergmeister/Long/Holzer      GTEP   66    +   17 Laps
50. #0  DeltaWing  Franchitti/Krumm/Motoyama    CDNT   65    +   18 Laps
51. #75 Porsche    al Faisal/Curtis/Edwards     GTEA   64    +   19 Laps
52. #17 Dome       Minassian/Bourdais/Ara       LMP1   58    +   25 Laps
53. #28 Lola       Giroix/Badey/Johansson       LMP2   58    + 43m03.132s
54. #99 Aston      Nygaard/Poulsen/Simonsen     GTEA   31    +   52 Laps
55. #16 Pescarolo  Collard/Bouillon/Hall        LMP1   20    +   63 Laps
56. #29 Lola       Ihara/Deletraz/Rostan        LMP2   17    +   66 Laps