NASCAR unfazed by Michigan test speeds
| | |
| --- | --- |
| By Diego Mejia | Friday, June 15th 2012, 16:01 GMT |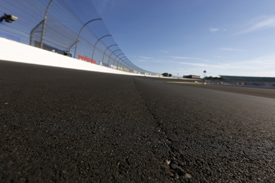 NASCAR officials see no need to intervene and force speeds down at Michigan despite Sprint Cup cars testing at averages above 200 mph on the two-mile track's newly repaved surface.
After last week's Pocono round, Cup cars will race on a new surface with higher grip and cornering speeds again at Michigan this weekend, with minimum speeds at the banked track reported at around 180mph.
If Thursday test pacesetter Tony Stewart's 201.896 mph average is repeated in qualifying, it would be a new official record not only for the venue, but also for any intermediate Cup track.
While NASCAR runs restrictor plates at Daytona and Talladega to decrease horsepower and speeds, no such rule is in place for tracks like Michigan and despite the record speeds set so far, NASCAR vice president of competition Robin Pemberton sees no need for changes as he anticipates speeds will drop.
"Unlike other places where you get to run together, sometimes the speeds get up because of the drafting and things like that," he said. "That typically doesn't help a Cup car run any faster when you get 43 cars on the track. There will be some that will maybe pick up some speed but generally speeds will continue to get down."
Five-time Cup champion Jimmie Johnson said the grip level and Goodyear's tyre choice makes the high average speeds 'comfortable', but does not anticipate it will benefit the spectacle.
"We wouldn't be able to run this fast if we didn't have comfort in the car and there wasn't a lot of grip," said Johnson. "I still think that we are going to have our traditional repave type of racing. It's just kind of how it is when you are going this fast. The racing lane gets narrower and narrower the faster you go."
He added: "I don't have any concerns about the speeds. Granted I haven't seen one hit the wall yet to see how the car reacts with the safer barrier at this pace. At least the balance that we have under our race car right now has been very comfortable to drive."
Roush Fenway's Greg Biffle, a two-time Michigan winner, warned that there could be cause for concern if speeds do continue to increase.
"I think we are approaching some safety concerns at the speeds we are going," he said. "I don't know that we are quite there yet, though. The thing you worry about is if a piece breaks on the car, an engine breaks at an inopportune time coming off the corner or getting in the corner...
"We are certainly pushing the envelope and with the extra speed, the wall still isn't going to move when you get there. It can be somewhat of a concern if the track continues to pick speed up."