OAK says 2014 Le Mans rules will make life hard for LMP1 privateers
| | |
| --- | --- |
| By Stuart Codling | Friday, June 15th 2012, 10:40 GMT |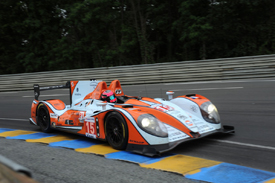 Leading sportscar privateer OAK Racing has given a cool reception to the 2014 LMP1 rules package announced by the Automobile Club de l'Ouest and the FIA on Thursday.
OAK Racing team principal Sebastien Philippe believes that the new regulations, which encourage the uptake of hybrid powertrains, but allow some concessions for independents with conventional technology, will make it even more difficult for private teams to approach the level of the manufacturer entries.
"The decision hasn't been made yet about what we will do for 2014," Philippe told AUTOSPORT. "We still need to think a bit on what's going on, about what we can do, because it's going to be very hard for a private team like us to build up a car for this championship.
"We can build one, but if we are doing that only to participate then there is no point. We want to be there to get some podiums sometimes, not to be 15 seconds behind."
Although hybrid cars' fuel allocation will depend on the power of their energy recovery systems (with tank capacities varying between 4.8-4.42 litres for petrol or 3.93-3.56 for diesel) and privateers running non-hybrid cars will be permitted to run larger fuel tanks (4.95 litres of petrol or 3.99 of diesel), Philippe thinks this is not enough.
"It's possible to do it with no hybrid system but I think if you don't put any hybrid system in your car, it's useless to go. That is my opinion, maybe I'm wrong. But for sure we will never go unless we have a chance of doing something.
"We have been in contact with some hybrid manufacturers, for sure we will not make our own. With these systems you can spend 10,000 Euros, two million, it's no limits at the moment.
"We have different businesses with different targets. One of our targets is to sell our LMP2 cars to customers and to support them, and to stop racing our own LMP2. This is sure. All the rest is a question mark at the moment. Concerning our racing team, it can be P1, it can be something else."