MW Arden's Laine tops GP3 test at Valencia
| | |
| --- | --- |
| By Sam Tremayne | Thursday, June 14th 2012, 15:52 GMT |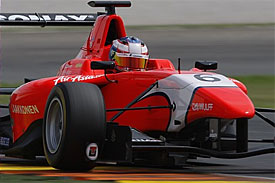 MW Arden's Mattias Laine set the pace on GP3's first day of mid-season testing at Valencia.
The Finn was fastest almost immediately, before gradually working his way down to a 1m26.610s in the morning session.
That proved unmatched for the remainder of the day, although three other drivers were able to get within one tenth of a second of his benchmark.
Daniel Abt (Lotus GP) came closest to deposing Laine, lapping within three thousandths of a second, while Tio Ellinas (Manor) and Laine's Arden team-mate David Fumanelli also threatened, finishing third and fourth respectively.
Monaco race winner Marlon Stockinger (Status), Antonio Felix da Costa (Carlin) and Barcelona winner Conor Daly (Lotus GP) rounded out the top seven, the trio - like those above them - all setting their fastest times in the morning.
Trident's Nico Muller, returning to the series for testing duties only, was one of the rare few to improve in the second session. Tenth fastest in the morning, he posted a 1m26.865s in the afternoon, enough to top the session and end the day eighth fastest overall, ahead of Patric Niederhauser (Jenzer) and the third Arden of Mitch Evans.
Manor's Fabiano Machado was the cause of two red flags - the first in the morning when he made a visit to the gravel trap, the second in the afternoon when he stopped out on track. Laine and current championship leader Aaro Vainio (Lotus GP) also stopped on circuit late on.
On her series debut Samin Gomez (Jenzer) finished 22nd and 21st field in the respective sessions.
Morning session:

Pos  Driver                  Team       Time       Gap
 1.  Matias Laine            MW Arden   1m26.610s
 2.  Daniel Abt              Lotus      1m26.613s  + 0.003s
 3.  Tio Ellinas             Manor      1m26.629s  + 0.019s
 4.  David Fumanelli         MW Arden   1m26.686s  + 0.076s
 5.  Marlon Stockinger       Status     1m26.725s  + 0.115s
 6.  Antonio Felix da Costa  Carlin     1m26.817s  + 0.207s
 7.  Conor Daly              Lotus      1m26.836s  + 0.226s
 8.  Patric Niederhauser     Jenzer     1m26.932s  + 0.322s
 9.  Mitch Evans             MW Arden   1m27.134s  + 0.524s
10.  Nico Muller             Trident    1m27.317s  + 0.707s
11.  Robert Visoiu           Jenzer     1m27.323s  + 0.713s
12.  William Buller          Carlin     1m27.332s  + 0.722s
13.  Aaro Vainio             Lotus      1m27.516s  + 0.906s
14.  Kevin Ceccon            Ocean      1m27.524s  + 0.914s
15.  Tamas Pal Kiss          Atech CRS  1m27.579s  + 0.969s
16.  Antonio Spavone         Trident    1m27.651s  + 1.041s
17.  Dmitry Suranovich       Manor      1m28.043s  + 1.433s
18.  Fabiano Machado         Manor      1m28.142s  + 1.532s
19.  Vicky Piria             Trident    1m28.217s  + 1.607s
20.  Ethan Ringel            Atech CRS  1m29.047s  + 2.437s
21.  Alice Powell            Status     1m29.067s  + 2.457s
22.  Samin Gomez             Jenzer     1m29.179s  + 2.569s
23.  John Wartique           Atech CRS  1m29.493s  + 2.883s
24.  Robert Cregan           Ocean      1m29.672s  + 3.062s
25.  Carmen Jorda            Ocean      1m30.512s  + 3.902s

Afternoon session:

Pos  Driver                  Team       Time       Gap
 1.  Nico Muller             Trident    1m26.865s
 2.  Antonio Felix da Costa  Carlin     1m27.046s  + 0.181s
 3.  Tio Ellinas             Manor      1m27.663s  + 0.798s
 4.  David Fumanelli         MW Arden   1m27.721s  + 0.856s
 5.  Kevin Ceccon            Ocean      1m27.723s  + 0.858s
 6.  Conor Daly              Lotus      1m27.785s  + 0.920s
 7.  Robert Visoiu           Jenzer     1m27.842s  + 0.977s
 8.  Mitch Evans             MW Arden   1m27.870s  + 1.005s
 9.  Matias Laine            MW Arden   1m27.912s  + 1.047s
10.  Daniel Abt              Lotus      1m27.982s  + 1.117s
11.  William Buller          Carlin     1m27.990s  + 1.125s
12.  Aaro Vainio             Lotus      1m28.059s  + 1.194s
13.  Patric Niederhauser     Jenzer     1m28.144s  + 1.279s
14.  Dmitry Suranovich       Manor      1m28.417s  + 1.552s
15.  Ethan Ringel            Atech CRS  1m28.515s  + 1.650s
16.  Antonio Spavone         Trident    1m28.693s  + 1.828s
17.  Tamas Pal Kiss          Atech CRS  1m28.901s  + 2.036s
18.  Vicky Piria             Trident    1m29.003s  + 2.138s
19.  Alice Powell            Status     1m29.022s  + 2.157s
20.  John Wartique           Atech CRS  1m29.045s  + 2.180s
21.  Samin Gomez             Jenzer     1m29.132s  + 2.267s
22.  Fabiano Machado         Manor      1m29.481s  + 2.616s
23.  Marlon Stockinger       Status     1m29.694s  + 2.829s
24.  Robert Cregan           Ocean      1m29.920s  + 3.055s
25.  Carmen Jorda            Ocean      1m31.040s  + 4.175s