Joey Logano hopes Pocono win helps 2013 Sprint Cup plans
| | |
| --- | --- |
| By Diego Mejia | Thursday, June 14th 2012, 14:24 GMT |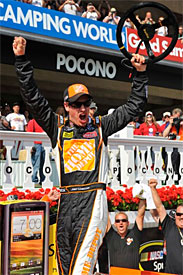 Joey Logano hopes his recent form helps his chances of staying put at Joe Gibbs Racing as he admits his status with the team for next year remains uncertain.
The 22-year-old, who won his first NASCAR Sprint Cup race in nearly three years last weekend at Pocono Raceway, has been overshadowed by his more experienced JGR team-mates for the past couple of seasons, having arrived in NASCAR's elite with lots of hype to replace former champion Tony Stewart in the outfit.
Although he eventually became the series' youngest winner ever back in 2009, Logano, now in his fourth season in Cup, still has to make the Chase for the title for the first time. Last year he finished 24th in the standings while his team-mates were both in the play-off and won races.
Despite his lack of results in 2011 and his win-less streak in Cup, Logano says he never doubted he could win again and reckons he lost none of his confidence.
"Last year was obviously a tough year for us - this year getting those four Nationwide wins under our belts already, as a driver that puts a lot of confidence in you, saying, 'Hey, I can do this.' I expect to be running out front," said Logano.
"It wasn't a surprise at Pocono that we were out front winning that race. I expected that. I think you've got to have that confidence - you've got to have that little arrogance or cockiness as an athlete - that's really important.
"You don't have to be a jerk about it, you can still be a nice guy and smile every once in a while, but at the same time you have to believe in yourself a lot and know that you're the best race car driver out there, but at the same time be humble enough to learn things from other drivers and learn things from other people out there, I think that's what makes a special athlete."
Logano admits his future with JGR remains uncertain as his current contract expires at the end of the season, although he expects his win at Pocono gives him a push with his bosses looking ahead.
"I haven't been informed on where I stand for next year yet, so it's all up in the air," said Logano. "Obviously winning a race means a lot and it helps that out a tonne. For sure right now my future is not set with anybody.
"You need to go out there and win races, not like we always do, but to get this win means a lot. It's at a perfect time, and I think us teaming up with [crew chief] Jason [Ratcliff] this year has been a really big help for me, and able to make our whole team really work together really well, and it's paying off.
"My hope is to obviously stay with what I've got and keep working with Jason. But you never know. You know, those things go back and forth and switch around a lot, and all I can do is stay focused on my job, and that's driving the race car.
"Whatever happens from there happens. I did my job today with winning the race, and my team did a great job, too, and all that stuff will fall in - the puzzle pieces will fall together eventually."
Following his victory from pole at Pocono, Logano ranks 14th in the Cup standings heading into this weekend's race at Michigan.