Ferrari says Perez's podium in Canada was helped by him taming his aggression
| | |
| --- | --- |
| By Jonathan Noble | Thursday, June 14th 2012, 11:22 GMT |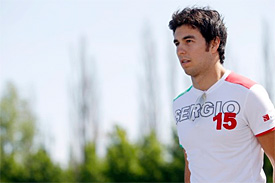 Ferrari believes that Sergio Perez's return to form in the Canadian Grand Prix was helped by him learning to tame his aggression.
Up until last weekend's race in Montreal, the Mexican had not scored a point since he finished runner-up to Fernando Alonso at the Malaysian Grand Prix back in March.
That run of disappointment prompted talks between the Sauber driver and Ferrari Driver Academy head Luca Baldisserri to work out exactly what was happening.
And Baldisserri suggested in an interview with the official Ferrari website that Perez's recent plight was not being helped by him being too aggressive in the races.
"After Monaco, we had a discussion with Sergio," said Baldisserri. "We wanted to find out why recent results had not lived up to expectations after the Malaysian Grand Prix.
"Perez is undoubtedly talented, but he often lets himself down by being too aggressive which, especially in Formula 1, does not deliver results.
"The Montreal race was a great response, a race in which Sergio not only ran at a great pace, but also managed his race very well, managing to stay on track for fifty laps on the same set of tyres."
Speculation that Perez could be in the frame for a drive at Ferrari had cooled recently, after Luca di Montezemolo suggested the driver was not experienced enough - although it is not clear if the Montreal result will change that stance.
"Perez is a good driver but to drive a Ferrari you need more experience," di Montezemolo was quoted as saying by Reuters last week.
"I think he is one of the potential best young drivers for the future but before putting a young driver in a Ferrari I need more experience and more results."