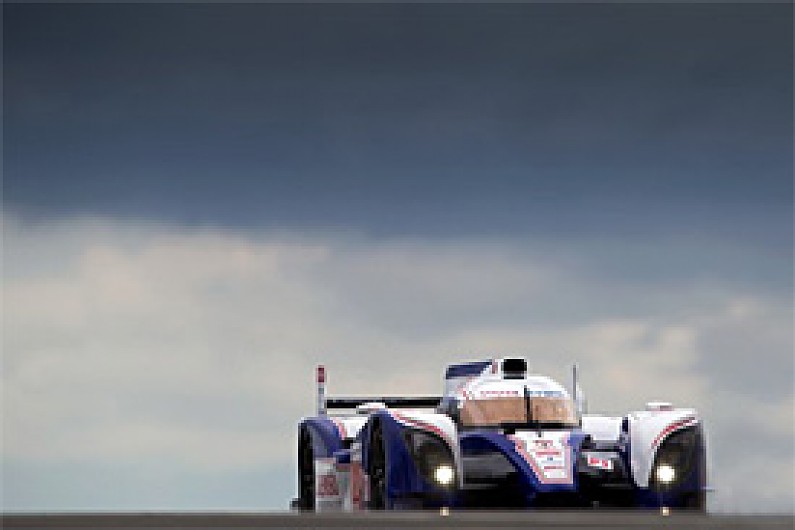 After over a decade away Toyota returns to Le Mans in 2012 with a fresh bid for the outright victory that has eluded them at all previous attempts.
Ex-Formula 1 engineer Pascal Vasselon's team have taken a very different approach to Audi in shaping a car to the ACO's hybrid regulations, and the TS030 has shown considerable promise in testing.
While clearly very quick, the TS030 Hybrid has yet to prove itself in competition after the first chassis was damaged in a crash during testing, forcing Toyota to pull out of the Spa 6-hour enduro last month.
Q. You haven't had a great deal of testing with this car. What programme will you be working through during the practice sessions?
Pascal Vasselon: Our plan is nothing unusual, I would say. There are the normal things we have to work through, like qualifying all the drivers, making sure they have all done enough laps at night. We have to install a few spare parts and make sure everything will work fine in case we have to change any pieces of bodywork during the race. One of the main targets is to develop our set-up, because we had a day of testing a few days ago and although we did well, we found a few things that needed to be corrected. We have quite a lot of set-up activity ongoing.
The weather will dictate when we go for the qualifying runs. We want to show that we are there even though qualifying has little importance at Le Mans.
We also have a lot of tyres to evaluate, thanks to the weather. This will be a big job: we have several tyre specs, and we have to find the temperature limits of the slicks as well as the transition between wets, intermediates and slicks. We have plenty of work to do, especially with the conditions predicted to be changeable.
Q. How much development have you done on the hybrid system in terms of wet- weather performance?
PV: Fortunately - or unfortunately - we've done quite a lot of work in the wet. At Le Castellet we had several days of rain. So we have some experience in terms of reliability as well as performance.
The hybrid system works better in the wet than it does in the dry. Why? Because in the dry the braking events are shorter. In some places we don't recover the full 500 kilojoules [permitted by the regulations]. In the wet the braking events are longer because of the lower grip, so we can recover more energy and boost more within the restrictions of the rules.
Q. Can you release the energy at the same time as you would in the dry, though?
PV: By the regulations, yes, but technically you can only transmit what the tyres can take, so for sure with less grip you stay tyre-limited longer. You have to wait, maybe 50 metres later. But the impact on performance is minimal because you are releasing the energy of the combustion engine first and then the electric power. It's based on what the tyres can take.
Q. Unlike Audi you've chosen to do the energy recovery and redeployment through the rear wheels. Did you do that for reliability or weight distribution reasons?
PV: We are using only one set of driveshafts which do everything - combustion engine, energy recovery, energy deployment. We did test with a system at the front of the monocoque. We made the decision because of packaging - it was easier to package the engine and the gearbox. Globally it was a lighter solution, so even with the weight at the rear it freed up the possibility of putting some ballast at the front. Also there is less friction and rolling resistance when you have fewer driveshafts. For all these reasons the decision was clear for us to make the installation in this way.
Q. What made you choose super-capacitors rather than a flywheel system or batteries?
PV: It's power density. For this kind of system it was important to be able to charge and discharge quickly. We were not looking for storage - it's not like an EV car where you're relying on the power for 100 kilometres or more. You're charging under braking, waiting a few seconds and then releasing it again. So you need a storage system with the best power but low weight, and that is the power density. We did many studies and found that a capacitor was the best device - but we expect that soon the battery will become the best option. At the moment you need more battery weight for the same power.
Q. How reliable are the capacitors?
PV: We will not have to change them - hopefully!
Q. The Audi drivers say their system is quite subtle and it can be hard to know whether it's working or not. What do your drivers say?
PV: Our hybrid system is more powerful. Our drivers - you cannot not notice it, there is a really big boost. But they complain that when they are out of the boost, there is nothing left!
Q. Is it possible to run purely on the electric system, say if you wanted to save fuel while running behind the safety car?
PV: We can do what we want with it. In testing we have brought the car back to the pits on electric power after running out of fuel. Obviously here it would depend on where it happened! We have options to use it for pure performance, or to drive to a certain laptime, or to save fuel. It depends what scenarios we encounter during the race.
Q. With having the hybrid system working through the rear, are there any implications for tyre wear?
PV: It was one of the difficulties of the packaging we chose, but we are very good at managing the tyres. We were quite surprised at Le Castellet about how long we were able to run on one set of tyres. It's a strong point.
Q. Why did you choose petrol for the combustion engine rather than diesel?
PV: That's a good question! Historically, Toyota hybrids for the road car market are gasoline hybrids. The decision was made to be in relation to the road car concept.
Q. The Audi diesels have had a reduction in on-board fuel capacity for this year. Was that the result of some negotiations behind the scenes with the ACO about performance balancing?
PV: I would not talk in terms of negotiations - we are engineers. The intention of the ACO and the FIA is very clear, they want different technologies at Le Mans but they want them to be balanced. Not in terms of lap time - that's where the confusion comes from. If you talk about lap time you never reach a conclusion because lap time is about many things - aero, braking tyres - as well as the engine. The debate had to be reset. To move forward we had to engineer it better - if we want to balance the performance of the engines we had to look at acceleration. That's the process that's in place, it began last year, adjustments have been made and the process is still going on. For me it's not a negotiation, the intention is clear: the two technologies should offer the same power, let's measure it and adjust it if necessary. There is no place for lobbying.
Q. Is it your intention to go for pole position?
PV: We will try to do well - we want to show that we are here. Pole position would be nice. We are going to do our best, so long as it doesn't detract from the other work we need to do. It will be a nice game. We have so many choices because all our drivers are able to qualify the car, and we haven't made the decision yet.
Q. At this stage in the car's development, what can you realistically expect to achieve in the race? How long can you run for?
PV: We have had issues in the test sessions and we've been working hard to fix them. We've fixed the known issues but we have not done the 24 Hours of Le Mans, and that's the next step. You can do endurance sessions anywhere in the world but Le Mans is very specific.
Q. You've got some operational support from ORECA. Who will actually be making decisions on the pit wall?
PV: The race operation is heavily supported by ORECA and we're very happy with that. You will find a mixture of people but the spine of the race engineering is ORECA. You have different decisions to make during the race and there is a process for each of them. If an immediate decision has to be made, that is the responsibility of the car's race engineer. For strategic decisions where we have more time available, for instance which tyres to fit for the next stint, I will be involved in that. Higher level decisions will go through the team management. We have a great level of integration - car seven's race engineer is from ORECA, car eight's is from Toyota Motorsport. The number one mechanics are the other way around. We are one team rather than two.
Access even more news on Autosport.
Register for free to increase your monthly limit from 15 to 25 stories - or subscribe today and get unlimited access.
Get unlimited news
Full access to our news and in-depth Autosport Plus features - all in an ad-free enviroment.
Subscribe to Autosport Plus
Get 10 free extra stories
A quick upgrade and you'll boost your monthly news limit instantly - for free.
Register for free