| | |
| --- | --- |
| Dorna chief Carmelo Ezpeleta says MotoGP's rookie rule could be flexible | |
| | |
| --- | --- |
| By Sam Tremayne and Michele Lostia | Tuesday, June 12th 2012, 17:04 GMT |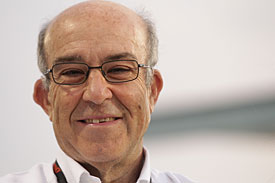 MotoGP's rookie rule, which prevents new riders from moving straight into a works team, does not 'have to be kept rigidly' according to Carmelo Ezpeleta, chief of the series' rights holder Dorna.
His comments represent a softening stance on a rule he has previously insisted will remain in place and be stringently applied.
They could also pave the way for Moto2 star and Repsol-backed Marc Marquez to move straight into Honda's works team for the 2013 season - a move which increased in likelihood following Jorge Lorenzo's decision to stay with Yamaha for at least two more years.
"The [rookie] rule was made in order to help satellite teams, so as to guarantee for them young and talented riders before they inevitably end up with the factory teams," Ezpeleta told Motosprint.
"It helps keep the gap between works and satellite teams in check. In any case, like every rule, it doesn't necessarily have to be kept rigidly. If it is judged to be bad, it can be reviewed."
The rule was introduced at the start of the 2010 season, in part to cope with the introduction of Ben Spies, who arrived with backing from Yamaha and its US distributor.
While the rule is intended to give satellite squads access to promising young riders - Spies spent a season with the satellite Tech 3 squad before joining the works team for the 2011 season - Honda, Yamaha and Ducati have all come out against it.
The situation with Marquez has further complicated the issue as he is backed by Repsol, meaning there could be potential sponsor conflicts were he to join either of Honda's current satellite squads for one season.
There is also the issue of each manufacturer being restricted to a total of four bikes: two works efforts and two satellites. Manufacturers have previously been able to blood young talent within specifically-created teams when such restrictions were not in place.
Ezpeleta says the option to do so remains open to Honda, but insists he is also willing to discuss the rookie rule.
"There's a way to bypass it and Honda knows it well," he said. "When Valentino had his debut in 500cc what kind of bike did he have?"
When asked about the fact Rossi was classified as a private entry, Ezpeleta responded: "Yeah, right, very private! He had a very private bike!
"Let's be serious: if Honda wants, it takes just a second to find a way to place Marquez on a works bike. Anyway, I'm open to discuss it."