| | |
| --- | --- |
| Rossi and Hayden hope Ducati's MotoGP testing work leads to Silverstone progress | |
| | |
| --- | --- |
| | Tuesday, June 12th 2012, 14:39 GMT |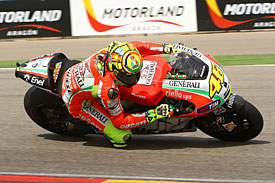 Ducati's Valentino Rossi and Nicky Hayden believe Silverstone will be important in assessing the true measure of the progress the team made during MotoGP's recent tests at Barcelona and Aragon.
The team left the two Spanish circuits confident it had made progress, however small, with the electronics of the GP12 - which play a key element in performance at Silverstone.
Rossi said the forthcoming British Grand Prix would prove just how much the team had advanced, but kept expectations in check by insisting the main priority was to try and match his pace and finishing position in Catalunya.
"During the Aragon test last week, we found some small things with the electronics and worked a bit on the settings. Now we'll see how it works in England," Rossi said.
"We hope I'll be able to ride well, that we'll find a good setup and that we can stay at the same level in the dry as we were at the Barcelona GP, although our chances will be better if it rains."
Rossi said he would still need to spend time learning the circuit, having been forced to miss MotoGP's first race at the venue in 2010 as a result of the broken tibia he suffered earlier in the season.
"I have a one-season 'disadvantage' at Silverstone compared to the other riders who started a year ahead of me," Rossi said. "I'll have to ride as much as possible during the practice sessions in order to understand the track well."
Hayden meanwhile said the team would still need to 'dial in' the electronics to cater for the flowing nature of the Silverstone track.
"With the lap being so long, you've really got to take advantage of any dry time you get to find a good setup, as the sessions go by really quickly," he said.
"There are so many different corners, and it's really important to dial in the electronics for all the sections. I'd say we lean on the electronics more there than at some other tracks. It's fast and open, with high-speed corners, and I really like it.
"The last couple of races haven't been great, but we just have to hang in there and try to take a step. It won't be easy, but I'm looking forward to the weekend."