Sebastian Vettel says late pitstop in the Canadian Grand Prix was the right call
| | |
| --- | --- |
| By Simon Strang | Sunday, June 10th 2012, 22:44 GMT |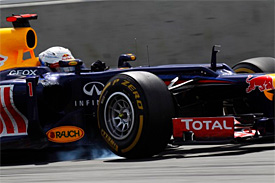 Sebastian Vettel praised Red Bull's late decision to switch his strategy in the Canadian Grand Prix after admitting that the one-stop plan he was on was the wrong choice.
Fernando Alonso and Vettel both attempted to complete the race with just one service after leader and eventual winner Lewis Hamilton made a second stop, leaving the duo out front with a clear advantage over the McLaren.
But the Briton's pace on new tyres allowed him to haul them both in again, and not long after he re-passed Vettel for second position on lap 62, the German came in for fresh prime tyres of his own.
"We could have [done something differently] but now it is easy to say that," said Vettel afterwards. "In the end Lewis decided to go for the second stop - I think we tried then to get the place back by going for one-stop, the same as Ferrari.
"But it turned out to be the wrong call, so we decided to come in again, which I think was a good call, and a great call at the time, given the position and what you can lose etc."
Vettel insisted that even though there were just six laps to run, it was still worth pitting again in a stop that dropped him to fifth. He regained a position when Alonso, who didn't stop again, ran into tyre trouble of his own.
Asked whether he thought he would have finished lower than fourth had he not stopped, Vettel replied: "Yes, at the time we were three or four seconds behind Fernando and we finished ahead of him. In the end I think he had no more chance.
"It's quite sudden... [the drop-off]. I mean if you think how many laps we did on that set of primes without any trouble and then the last three or four laps you could really feel the rear tyres just didn't deliver the traction anymore and it was extremely difficult."