Webber says he is struggling with final chicane ahead of Canadian Grand Prix
| | |
| --- | --- |
| By Glenn Freeman | Saturday, June 9th 2012, 20:35 GMT |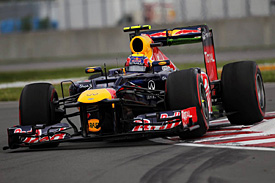 Mark Webber says he is struggling with the final chicane on the Circuit Gilles Villeneuve this weekend, after qualifying fourth for the Canadian Grand Prix.
The Monaco Grand Prix winner was unable to fight with team-mate Sebastian Vettel in qualifying, as the reigning world champion beat fellow front-row starter Lewis Hamilton to pole position by a comfortable three tenths of a second.
But Webber could not reach the same highs on Saturday, and he highlighted the final chicane as the area where he is having the most trouble.
"I'm not happy in the last chicane," Webber told reporters in the Montreal paddock. "Normally I am [happy there], but I can't get into it and then I have poor change of direction.
"The last few years here it has been a bloody strong chicane for me, but this year, I don't know why [it's not]. I feel comfortable when I get into a rhythm, like on a long run, but to go out there and do one time, I'm not at the peak, which is frustrating.
"I just said to my guys that its funny how that you can do the business through Casino Square [in Monaco] and then you come to a little chicane like that and you don't feel super comfortable. But that's the way it is."
The Australian added that he had a poor Q3, and he praised the efforts of Vettel to get such a gap to the rest of the field.
"Q2 wasn't too bad, but that's not the grid," said Webber. "This was probably one of our weakest Q3s of the year.
"The first lap wasn't very good, and we probably should have made some different adjustments to the car. Then on the last run we had a small issue with a rear tyre blanket that didn't do it's job.
"That didn't help, but ultimately it wasn't going to get me pole position [if it was working]. Seb's lap was great."