Joey Logano claims NASCAR Sprint Cup pole at Pocono
| | |
| --- | --- |
| By Diego Mejia | Saturday, June 9th 2012, 18:07 GMT |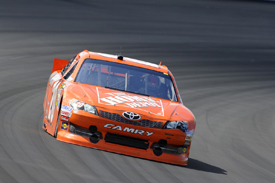 Joey Logano claimed his first pole position of the season in qualifying for Sunday's NASCAR Sprint Cup Series race at Pocono.
The Joe Gibbs Racing driver set a lap of 50.112 seconds at an average speed of 179.598 mph, the fastest of the week and also a track record, thanks to the new pavement laid around the 2.5-mile tri-oval.
Logano ran 18th in the order and surprisingly his lap, which was slightly faster than his best from final practice, stood unbeaten for most the session as most of the fastest drivers from Friday could not replicate their speed on Saturday, having tested extensively at the track since Wednesday.
"I had a great car, [crew chef] Jason [Ratcliff] has done a great job all week being here," said Logano after earning his fourth career pole, and his second at Pocono.
"It's cool to get a pole here and get a new track record too, so that's really neat. Hopefully that holds up for a while. I felt like I left a little bit out there too, so I'm excited to start this thing and hopefully bring home a 'big W' [win]."
Roush Fenway's Carl Edwards, who had been second to Logano in Friday's final session, was around two tenths off his practice speed but still set a lap good enough for second after struggling earlier in the week.
Last year's Brickyard 400 winner Paul Menard was third and best Chevrolet for Richard Childress Racing while Kyle Busch, seemingly more at ease than ever at Pocono, was fourth fastest ahead of his JGR team-mate Denny Hamlin, a four-time winner at the venue.
Points leader Greg Biffle ended up 13th right ahead of his Roush team-mate Matt Kenseth and BK Racing's Landon Cassill, the first to break into the 50-second bracket during the session.
Last week's winner Jimmie Johnson (Hendrick) had a surprisingly poor effort, finishing only 24th in one of his worst qualifying results of the season thus far.
Mike Bliss was the fastest of the non-guaranteed drivers in 28th, while David Stremme failed to make the field.
The session suffered a slight delay early on as officials had to work on cleaning a slick track, Scott Riggs having to run for a second time as it was deemed that conditions compromised his first qualifying attempt.
Pos  Driver              Team/Car                     Time     Gap
 1.  Joey Logano         Gibbs Toyota                 50.112s
 2.  Carl Edwards        Roush Fenway Ford            50.317s  + 0.205s
 3.  Paul Menard         Childress Chevrolet          50.397s  + 0.285s
 4.  Kyle Busch          Gibbs Toyota                 50.399s  + 0.287s
 5.  Denny Hamlin        Gibbs Toyota                 50.408s  + 0.296s
 6.  Mark Martin         Waltrip Toyota               50.497s  + 0.385s
 7.  Regan Smith         Furniture Row Chevrolet      50.517s  + 0.405s
 8.  Dale Earnhardt Jr   Hendrick Chevrolet           50.579s  + 0.467s
 9.  Marcos Ambrose      Petty Ford                   50.601s  + 0.489s
10.  Kasey Kahne         Hendrick Chevrolet           50.612s  + 0.500s
11.  Jamie McMurray      Earnhardt Ganassi Chevrolet  50.659s  + 0.547s
12.  Jeff Gordon         Hendrick Chevrolet           50.694s  + 0.582s
13.  Greg Biffle         Roush Fenway Ford            50.699s  + 0.587s
14.  Matt Kenseth        Roush Fenway Ford            50.704s  + 0.592s
15.  Landon Cassill      BK Toyota                    50.789s  + 0.677s
16.  Clint Bowyer        Waltrip Toyota               50.840s  + 0.728s
17.  Juan Pablo Montoya  Earnhardt Ganassi Chevrolet  50.851s  + 0.739s
18.  Ryan Newman         Stewart-Haas Chevrolet       50.890s  + 0.778s
19.  AJ Allmendinger     Penske Dodge                 50.904s  + 0.792s
20.  Jeff Burton         Childress Chevrolet          50.946s  + 0.834s
21.  Kevin Harvick       Childress Chevrolet          50.979s  + 0.867s
22.  Tony Stewart        Stewart-Haas Chevrolet       51.015s  + 0.903s
23.  Martin Truex Jr     Waltrip Toyota               51.090s  + 0.978s
24.  Jimmie Johnson      Hendrick Chevrolet           51.093s  + 0.981s
25.  David Reutimann     Phoenix Chevrolet            51.115s  + 1.003s
26.  Casey Mears         Germain Ford                 51.254s  + 1.142s
27.  Bobby Labonte       JTG Daugherty Toyota         51.260s  + 1.148s
28.  Mike Bliss          Humphrey Smith Toyota        51.315s  + 1.203s
29.  Aric Almirola       Petty Ford                   51.382s  + 1.270s
30.  Michael McDowell    Parsons Ford                 51.407s  + 1.295s
31.  Brad Keselowski     Penske Dodge                 51.464s  + 1.352s
32.  JJ Yeley            Robinson-Blakeney Toyota     51.741s  + 1.629s
33.  Joe Nemechek        NEMCO Toyota                 51.763s  + 1.651s
34.  David Ragan         Front Row Ford               51.768s  + 1.656s
35.  Josh Wise           Front Row Ford               51.874s  + 1.762s
36.  David Gilliland     Front Row Ford               51.951s  + 1.839s
37.  Travis Kvapil       BK Toyota                    52.370s  + 2.258s
38.  Scott Riggs         R3 Chevrolet                 52.472s  + 2.360s
39.  Stacy Compton       Turn One Chevrolet           52.584s  + 2.472s
40.  Tony Raines         Baldwin Chevrolet            53.760s  + 3.648s
41.  Reed Sorenson       FAS Lane Ford
42.  Dave Blaney         Baldwin Chevrolet
43.  Stephen Leicht      Circle Sport Chevrolet       52.834s  + 2.722s

Did not qualify:

     David Stremme       Inception Toyota             52.940s  + 2.828s