Jimmie Johnson admits feeling more relaxed now he is no longer NASCAR Sprint Cup champion
| | |
| --- | --- |
| By Diego Mejia | Friday, June 8th 2012, 22:15 GMT |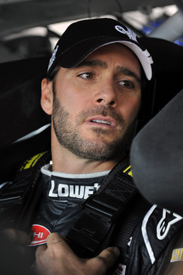 Five-time NASCAR Sprint Cup Series champion Jimmie Johnson says he is much more relaxed this season now that the pressure of maintaining his title streak is gone.
Johnson has bounced back from a tough start to his 2012 campaign to win two of the last three points-paying races, taking victories at Darlington and Dover, plus his third All-Star win at Charlotte last month.
No longer the reigning champion after winning the 2006-2010 titles, Johnson says his hunger for success has not changed relative to last year but admits to feeling more relaxed than he was 12 months ago.
"The hunger doesn't change, that's been there my whole life and even through last year and this year, that doesn't change any," said Johnson. "That desire is there, and when that desire fades I guess it's time to hang up the helmet.
"I feel less pressure than what we had last year. I sat up here and told everyone that I didn't feel a lot of pressure trying to keep the streak alive but once the streak was closed out and I couldn't keep it alive, I felt a lot different.
"So, looking back on it I was under a lot of pressure and I don't have that pressure right now.
"One, we've been very fast and have fast race cars and won a few races this year here recently. So, that helps too. The pressure of trying to keep that streak alive was greater than I ever thought it was."
The Hendrick Motorsports driver is currently fifth in the drivers' standing despite two non-finishes, and his two wins have put him in a good position for his Chase prospects. The 36-year-old has also led nearly 19 per cent of the laps raced this year.