McLaren admits no simple solution to Jenson Button's on-going set-up issues
| | |
| --- | --- |
| By Jonathan Noble | Friday, June 8th 2012, 19:00 GMT |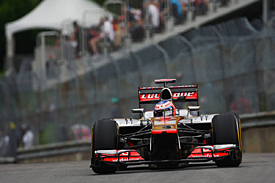 McLaren has admitted that there is no simple solution to the set-up problems that Jenson Button has been suffering from in recent races.
Button has endured a run of difficult weekends with poor qualifying performances in the past two events, and scoring just two points in the last three grands prix.
McLaren is working hard on getting to the bottom of why Button's form has dropped off so suddenly, but its prospects of overcoming the issues have not been helped by a gearbox problem that limited Button's running in Canada on the opening day of practice.
Speaking about the work needed to help Button rediscover his early season strong form, McLaren technical director Paddy Lowe said it went far beyond just not getting the tyres into the right temperature window.
"You try and look for patterns and we are doing a lot of that at the moment, but it does seem like this is a multi-dimensional problem really," he explained. "It is not as simple as the tyres not being hot enough or being too hot. It is not that simple."
Lowe says the team is still trying to get to grips of what has changed for Button in recent races - considering how strong his start to the campaign was.
"We learned quite a bit from what we had in Monaco, what didn't work and where the weaknesses were there, so we are taking forward quite a few ideas that we tried out in the simulator and we tried here," he said.
"It is a concern we have seen for two or three races. Spain was interesting. Jenson was very strong on the Friday and Lewis less so, and then by the time you got to Saturday it was completely the opposite. I don't think it was a problem with Jenson whatsoever, it is just something to do with how we set the car up for him and how he then exploits it."