Christian Horner says team has no qualms about Vettel and Webber being locked in tight championship fight
| | |
| --- | --- |
| By Jonathan Noble | Friday, June 8th 2012, 14:23 GMT |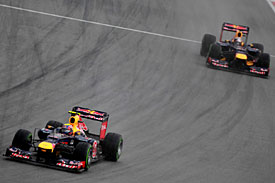 Red Bull Racing boss Christian Horner says the team has no qualms about both its drivers being locked in a tight battle for the world championship, despite the friction such a scenario produced back in 2010.
Two years ago, tension between Mark Webber and Sebastian Vettel erupted several times - including a crash in Turkey and a row over a front wing in Britain – as the pair took their battle for title glory to the final round of the championship.
With Webber now back to his best in F1, after a disappointing 2011 season, he and Vettel look set to embark on a close fight – which increases the chances of there being difficult situations for the team again.
But Horner says Red Bull is in a much better position to manage any troubles that may arise between its drivers than it was last time they were battling hard.
"I think we're in a great position having both drivers right up there," said Horner, whose drivers are tied in second place behind Fernando Alonso in the drivers' championship. "A lot has moved on since 2010.
"We're in a good position to give both drivers the best support we can between now and the end of the season. It's so difficult to predict at the moment from race to race, but it's a positive for the team to have both drivers running at the front."
When asked if he felt Red Bull Racing had learned lessons from some of the events of 2010, Horner said: "I think you can always learn in this business. And I think as a team we've evolved and learned, and we're still a pretty young team in reality. That applies to the drivers as well."
Red Bull is chasing its first Canadian GP victory this weekend, with the venue being the only established event on the schedule that the outfit has not triumphed at.
Horner said that to achieve such a feat this year would mean more, because of the huge variability in winners that there has been over the first six races.
"It would be fantastic, especially in a season like this where any team or driver has struggled to put consecutive weekends together," he said.
"We came pretty close last year; in fact we came within half a lap on what was a very long Sunday afternoon.
"I predict it's going to be very close here again, and the weather could well be a factor if you look at the forecast - particularly for Saturday. It's predicting showers on Saturday, just in case things needed spicing up a little bit."