Kamui Kobayashi believes the ban on blown diffusers is key to Sauber's form in 2012
| | |
| --- | --- |
| By Andrew van Leeuwen | Friday, June 8th 2012, 08:40 GMT |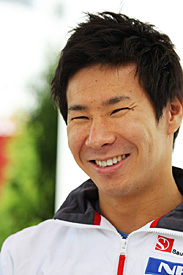 Kamui Kobayashi says the banning of blown diffusers has been a key to Sauber's relative competitiveness is 2012.
Thanks to a double points finish in Australia and Sergio Perez's second place finish in Malaysia, Sauber is currently sitting on 41 points as a constructor, just three shy of its total from the 2011 season.
According to Kobayashi, the difference between this season and last is technical stability, with the smaller teams not having to invest in expensive development programs such as blown diffusers.
"When I look at last year, we didn't do anything stupid [in our development], but we didn't have so much budget," he said.
"It was difficult to develop an exhaust system, and this was a big problem. In that moment they said it would be banned, so that's why we didn't develop it. We thought we would struggle for two or three races, but then everyone would have the same. At the end, this was the problem. So we didn't do anything stupid, but we didn't see a result.
"This year, a big update like we had at Barcelona, I think we can see the result. I think our team is definitely doing a great job. It's a small team, with a small budget, and you can see clearly the step forward.
"If we make one mistake in development, for us it's a big pain. If everything is fine, and we can see it's a good result, we can always make a good step forward and keep up with the development speed. If we make a mistake, or take too long to make a decision, it's a problem."
Kobayashi added that he was impressed with the consistency of the 2012-spec Sauber, and that he was just one "really good" weekend away from a big result.
"I think the car is good. You could say that Bahrain was a little bit tough for us, but I think the car is good. Bahrain was a little bit weak for us, but at the rest of the tracks we've been very consistent.
"We just need a really good weekend without any problems. This will give a result."