Lewis Hamilton may wait until the end of the season to decide on his future in F1
| | |
| --- | --- |
| By Jonathan Noble and Pablo Elizalde | Thursday, June 7th 2012, 19:59 GMT |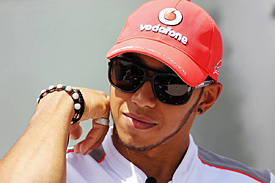 Lewis Hamilton says he may wait until after the end of the season to sort out his future, as speculation linking him with other teams continues.
The Briton's contract with McLaren expires at the end of the current season, but Hamilton says his main focus right now is the championship fight, which he admitted he did not expect to be so hard this year.
Hamilton has only raced in F1 with McLaren, having made his debut with the team in 2007.
The 2008 world champion says he has not even started talks about extending his deal with the team.
"I haven't even discussed it," Hamilton told reporters in Canada on Thursday. "It is just because I underestimated how difficult the season was going to be. I underestimated how busy I would be, and then I also realised how unimportant it is at the moment.
"The championship is more important than what I have to do for my next contract. My future at the moment is not important. I might not even see next year. So what is important is that I capitalise on maximising this year."
When asked if the decision could wait until the end of the season, he said: "Possibly. Possibly."
Despite rumours linking him with rival teams like Red Bull or Ferrari, Hamilton insists he is not even considering anyone right now.
"I am not looking at anyone. I am just trying to focus on this season and trying to focus on winning. I have other people to worry about those kinds of things, and when the time comes and we sit down and they what do you want to do, then I can give them an answer. But I don't have to do that at the moment and I am not even thinking about it."
He added: "I could sit down if I wanted to. But I have a job at the moment and I am not in no rush, no rush at all, so there is no need to do it now."