Alonso: Ferrari still needs more speed to stay in championship fight
| | |
| --- | --- |
| By Jonathan Noble | Thursday, June 7th 2012, 16:58 GMT |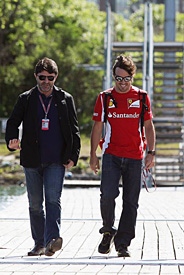 Ferrari cannot afford to rely on its strong run of consistent points scoring this season if it is going to win the world championship this year.
That is the view of points leader Fernando Alonso, who reckons that his Maranello outfit needs to unlock more speed from its F2012 if it is not going to let its title challenge fall away.
"We need to improve the pure pace of the car," said Alonso, who currently holds a three-point advantage over Red Bull Racing duo Sebastian Vettel and Mark Webber.
"For Sundays we normally are a little bit more competitive. We take advantage of the experience from the team and the talent from the team in terms of preparation for the race, the starts, and the strategy.
"But we know that we are not fast enough, especially on Saturday when we are all in the same conditions, with low fuel and new tyres. We are struggling to be in Q3 sometimes, and we are not anywhere close to pole position.
"With that, that we are now leading the championship is something that we cannot maintain if we are not quick enough. We are not the fastest on the track, so that is something that we need to look for and hopefully in Canada we will see another step forward from the team and we are close again to the top guys. But we will not know until after qualifying."
Alonso thinks that there is a danger for any of the men in the title battle of losing big ground over the next few races if one team is able to eke out a performance advantage.
"I think as long as there are different winners in races, you need to be consistent if you want to lead the championship," he explained.
"If sooner or later we arrive now at some races, maybe in July, when there are three races in four weeks, and in those races one guy manages to win two races, then you need something more than consistency."
Alonso is also convinced that some of the shocks that have been delivered this season - like Pastor Maldonado's victory in Spain – will not be repeated later in the campaign when the bigger teams ramp up development and get more on top of the tyres.
"I enjoy the season so far," he said. "It is quite unpredictable but at the same time the top teams are leading the championships. We see Red Bull, McLaren, Ferrari, Lotus, and Mercedes – so even if there are surprises and some medium teams are doing well, at the end consistency and experience is getting the points out of Sunday.
"It is an interesting championship, but in a way I am thinking that sooner or later everything will stabilise and be much more normal than what we are seeing now."